TCT 3Sixty covers all aspects of additive manufacturing from design to production. Every year it attracts all sorts of companies involved in 3D printing, from big names to start-ups. TCT 3Sixty is the place to promote your business, make new contacts, and generally gather information on new development in the industry. The TCT event in Birmingham has been run since 1994.
Table of Contents
TCT 3Sixty 2023 Highlights
On June 7-8, 2023, the UK's most popular 3D printing and AM tradeshow, TCT 3Sixty, was held at the Birmingham NEC. There were 171 exhibitors and nearly 100 speakers sharing the latest AM news and innovations. The TCT Awards ceremony took place on the first day to celebrate the finest global innovations and applications in additive manufacturing technology. Here are some brief highlights.
Booth Displays
As expected, there were a number of interesting displays at the show to help feature the use of innovative technology, from miniature models to transportation. Cars and car parts are usual objects at such shows.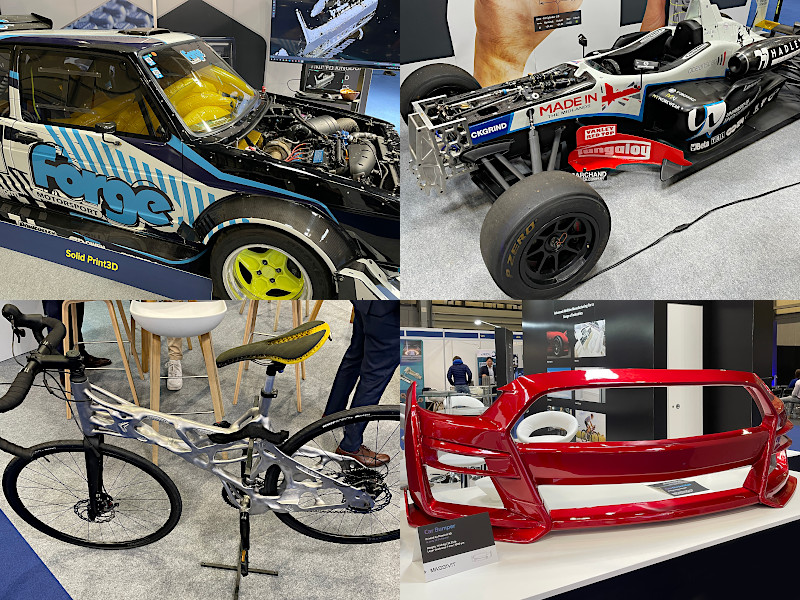 3D Scanners
This year, numerous vendors and resellers showcased 3D scanning products and services. Revopoint had a bustling booth displaying their latest offerings. Their live full-body scanning demonstrations drew a significant crowd. We reviewed several of their products on 3DWithUs. You can find these reviews of 3D scanners on our website.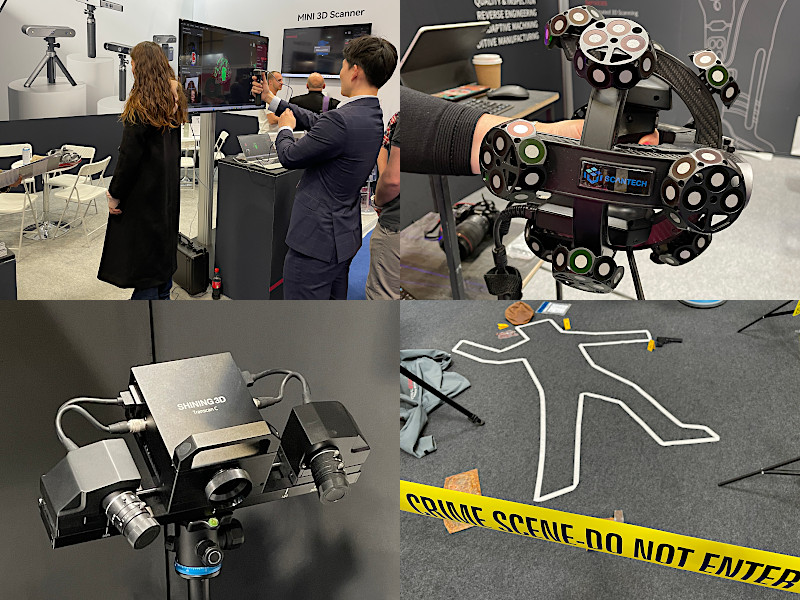 T3DMC showcased their state-of-the-art measuring and scanning device, TrackScan, which is equipped with high-resolution cameras. These cameras can precisely measure parts and effectively capture reflective and dark surfaces.
Central Scanning surprised with their crime scene setup. Such an original display gave an idea of the value of 3D scanning in specific situations.
Desktop FDM 3D Printers
One of the very good reasons for attending events like TCT 3Sixty is the opportunity to see brand new products. For example, products that were launched just a couple of months ago, like the Original Prusa i3 MK4 or Creality K1, as shown in the images below.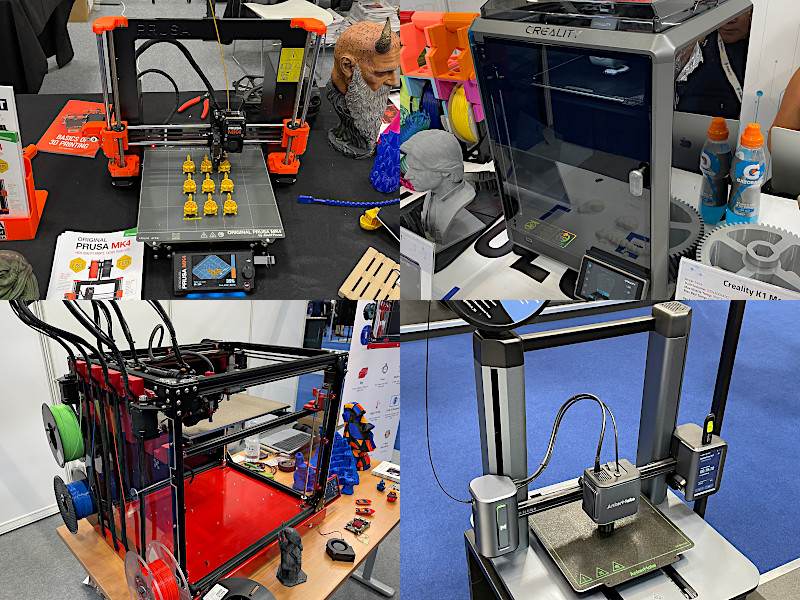 3D printers, which were launched with the help of Kickstarter campaigns, were also presented at TCT 3Sixty. Visitors could see the Proforge 4 high-speed tool changer and the AnkerMake M5. A review of the AnkerMake M5 on 3DWithUs is coming soon.
TCT Awards
On the evening of June 7th, over 200 professionals gathered at the National Conference Centre in Birmingham to celebrate the winners of the TCT Awards. These awards recognized significant accomplishments and contributions to the field of 3D printing. During the ceremony, 11 laureates were lauded for their achievements, with an equal number of projects and organizations earning high commendation. The complete list of award winners can be found via TCTMagazine.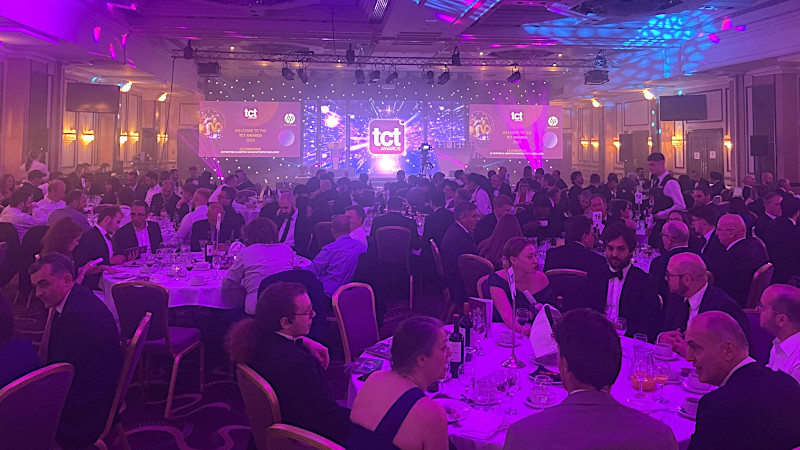 Other notes:
– Mayku Multiplier. I was delighted to see the Mayku Multiplier, a pressure former, at the trade show. I had hoped to meet their Content Marketing Manager, Agustin Arroyo, in person, but he had to attend another event in Spain. Perhaps next year.
– MedTechExpo. Alongside TCT 3Sixty, another tech trade show, MedTech Expo, was organized by the TCT Group. Such a combination of trade shows helps to understand and compare the nature and scale of the industries involved. When visiting one, it's very tempting to see what's happening at the other. In the end, at the same venue, you learn about all aspects of innovative technologies.
– Media Partner. We were proud to cover TCT 3Sixty this year in our popular tables and send-outs. And it was pleasant to see the 3DWithUs logo added to the Media Partners stage.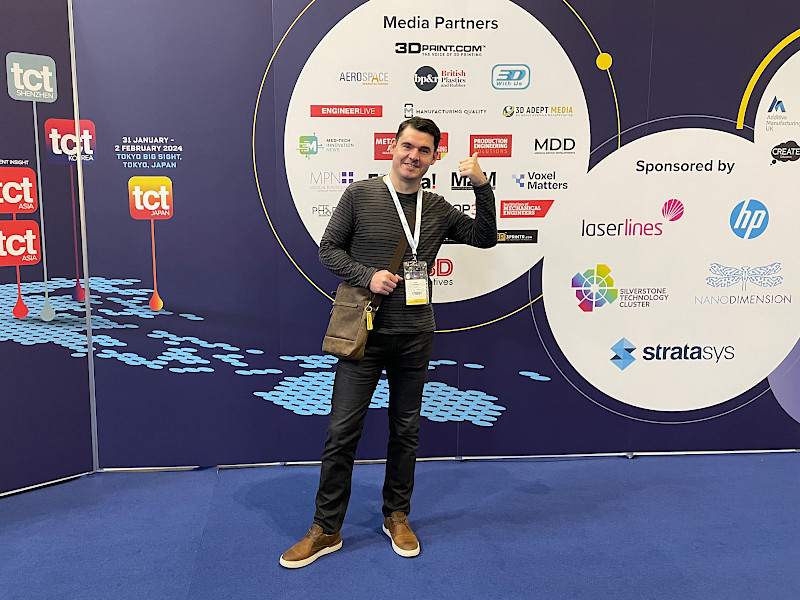 Conclusion
We hope we gave you a taste of what TCT3Sixty 2023 was like. There are many highlights and videos available, please find them using hashtags #tct3sixty or #tctawards.
TCT 3Sixty 2022 Highlights
TCT 3Sixty 2022 took place in summer and lasted for only 2 days instead of usual 3. We witnessed an all-rounded tradeshow with many speakers and panel discussions about the industry-related topics. Here are some of the highlights.
Prusa Research
Couldn't go to Dubai to see Prusa3D's automated farm system AFS Pro? They had it at TCT 3Sixty printing personalised whistles for booth visitors, to showcase automation. After entering an email into the system, a visitor receives a notification in approx. 30 min. on completion, and the print with the initials is ready to be collected.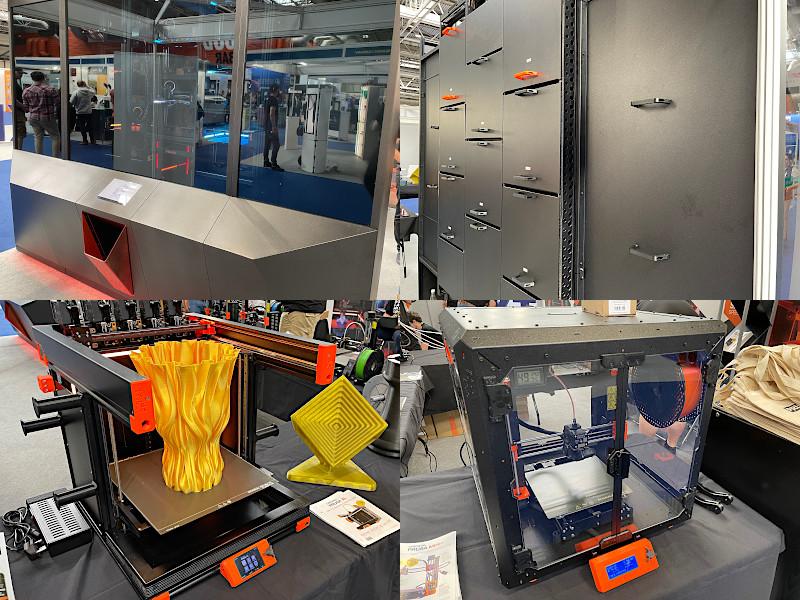 Also, compared to the last year's tradeshow, the Prusa3D booth had two newcomers: an Original Prusa XL and a recently announced enclosure system.
Hanging/Drone Printer by UCLan
Hanging on the wires and balanced by a drone-like system, this printer was presented by the University of Central Lancashire. An interesting concept, as someone mentioned, such printer should never have issues with cooling.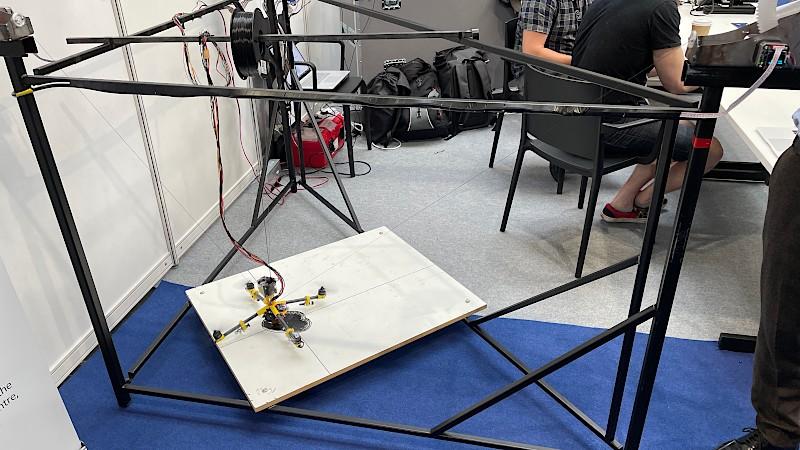 Knowledge Bar
In 2022 a new format was introduced in which it is possible to speak to the industry experts 1-2-1. The so-called Knowledge Bar will have an expert available for questions in 1-hour slots each on both days of the event.
TCT Awards 2022
– The TCT Awards 2022 dinner was held on the 1st day of the event and was hosted by a famous TV program the Gadget Show host Jason Bradbury. Here is the full list of the TCT Award Finalists.
Joel Telling
The unofficial appearance of Joel Telling at the show surprised both visitors and exhibitors. The host of a popular YouTube channel 3D Printing Nerd was on his way to the first Sanjay Mortimer Foundation Auction organized by E3D. There also was an announcement that Joel will step in as an auctioneer to help the bidding process. More info about the auction.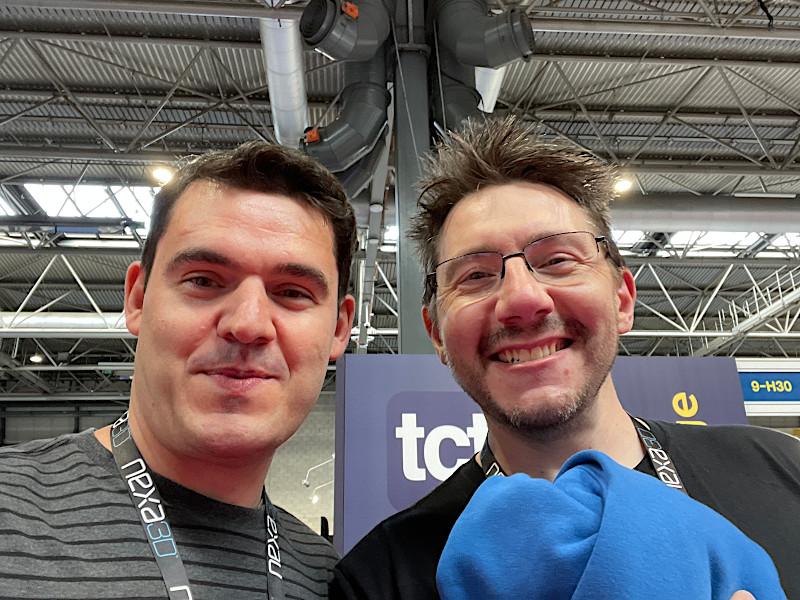 Conclusion
This year at TCT 3Sixty we saw more manufacturer representatives compared to the last year. Companies trying to build their sales ground in the reseller-friendly UK. There have been a few product launches and many familiar faces.
A good indicator of things getting back to normal was that schools were back at TCT 3Sixty with the Inspired Minds initiative. Who knows, there might be quite a few amongst them to become the future R&D specialists for the AM industry.
We hope we gave you a taste of what TCT3Sixty 2022 was like. There are many highlights and videos available, please find them using hashtags #tct3sixty or #tctawards.
TCT 3Sixty 2021
This year, NEC Birmingham welcomed visitors to the rebranded show – TCT 3Sixty (previously TCT Show). With this new concept of a 360° vision, the organizers want to convey the message that this event covers all aspects of the 3D printing industry.
As we went through 2021, the general optimism was gradually growing. Many events still have an online "back-up", but the need for in-person meetings and events is felt strongly. People started taking full advantage of the regional events. In the new reality, regional, rather than global, events may become more desired and effective, with more decision power given to the local managers.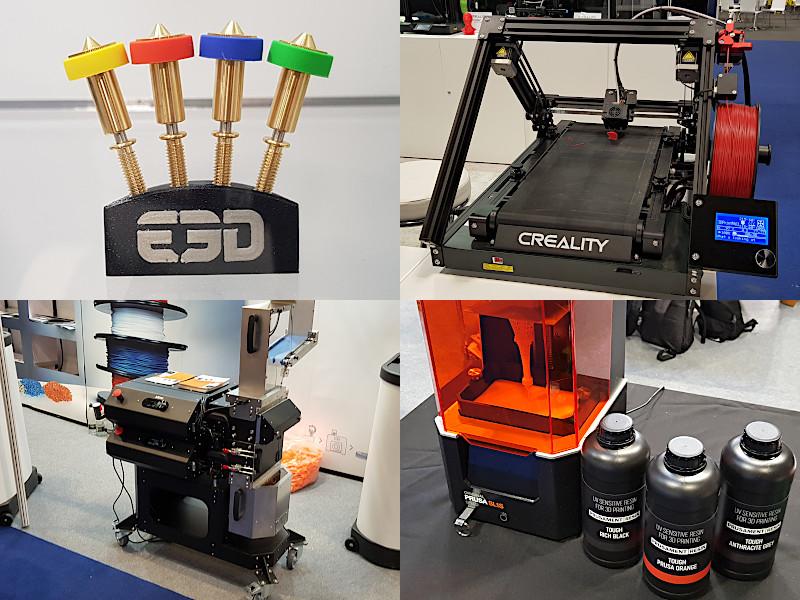 At this year's event, it felt like everything came back to normal after a two-year break. There was buzzy activity around the booths, speakers giving presentations, interviews, showcases, and overall better than expected attendance.
In order to promote adoption, it is important to raise awareness. At TCT3Sixty 2021, both individuals and businesses got involved, saw the practical application of additive manufacturing, and hopefully found the needed solutions and moved forward towards adoption.
E3D Online
Rebranded E3D had a debut with a new nozzle system Revo which caught a lot of attention during the show and on social media. A UK-based team, creators of the ToolChanger, every year invite talented creators to showcase their own work at the E3D's booth. This year James Bruton @XRobotsUK and Matt Denton @mantisrobot were at the stand demonstrating their creations.
Creality
If you have never seen belt 3D printers, then there was a chance to see one of them at TCT3Sixty where Creality featured the machine together with a new HALOT resin printer.
3devo
A company from the Netherlands, 3Devo, featured GP20 Shredder Hybrid – a plastic shredding system. Good to see that the plastic recycling and filament making innovations are coming through.
As usual, manufacturers keep the big news in secret and make announcements at such tradeshows. At this event, we saw quite a few product launches.
We hope we gave you a taste of what TCT3Sixty 2021 was like. There are many highlights and videos available, please find them using hashtags #tct3sixty or #tct3sixty2021.
TCT3Sixty 2020
An exciting announcement was made: TCT Show Birmingham is rebranding. What will this mean in terms of the profile of the exhibitors and attendees? We will find out soon enough, and this may be a very welcome breath of fresh air. The new TCT 3SIXTY will be aiming at
It is one focused on developing a real understanding across the industry of the potential of additive manufacturing and 3D printing technology, this deeper 360-degree understanding will increase adoption at all levels of design, engineering and manufacturing.
And this pledge hits the spot. One note that we constantly hear from the bigger industrial machine producers is that penetrating the manufacturing market is tough. Additive manufacturing adoption on an industrial and serial production scale has a serious stopper – it is hard to persuade traditional manufacturers to change their ways. This type of change will require investment, and manufacturing does not like disruption.
Educating the industries that may benefit from adopting additive manufacturing in the certain segments of the process is essential for success. Creating "new users" will take time and effort, and this initiative from TCT may play its part.
TCT Show 2019
TCT Show in Birmingham is the only European standalone event of TCT Group. It brings together 3D printer and materials manufacturers in both desktop and industrial spaces. Here, there are traditionally more exhibits for the curious and early learners. As part of the partnership with CREATE Education, around 300 young students were busy in the training hub this year.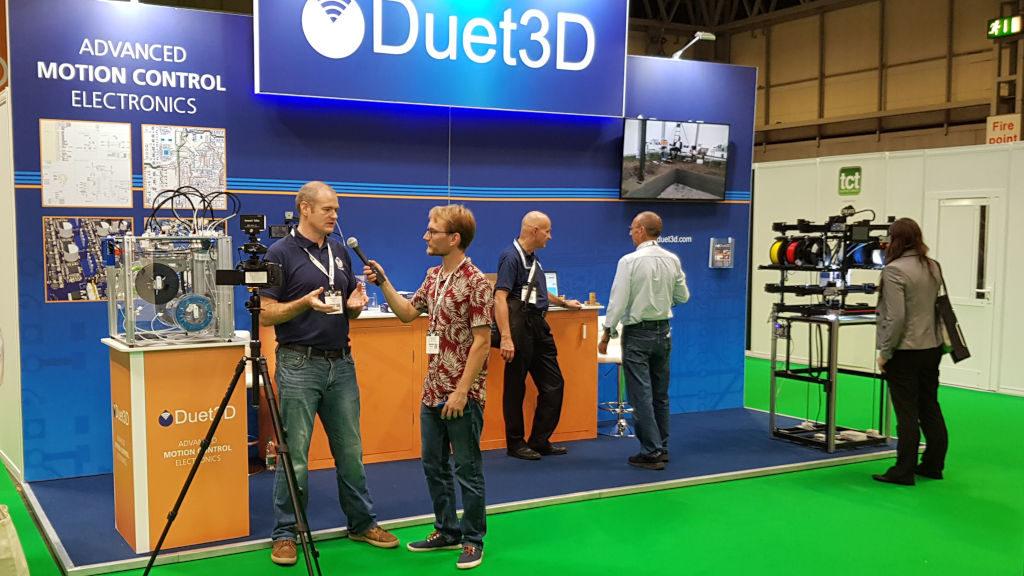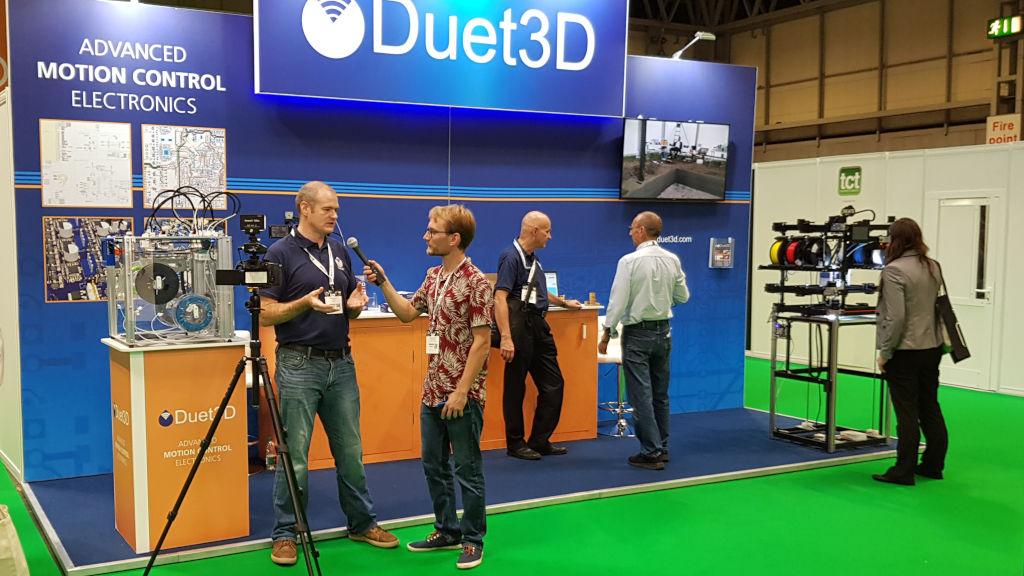 As always, TCT Birmingham offers participation in talks and presentations, taking place on the Tech Stage and on TCT Introducing Stage. Of course, what the exhibitors pay for and are looking for is making business. Although, this year we witnessed a bit of the shrinkage in manufacturers' presence, with a quite generous lounge space on the grounds, we hear that some of the major players were happy with the results.
TCT Show 2018
TCT Show 2018 proved to be as busy as ever, with noticeably more exhibitors showcasing their models. It was fun to see all those makes and samples. Star Wars Storm Trooper was greeting the visitors close to the entrance, adding to the sense of excitement upon arrival. A big part of the exhibition was dedicated to the industrial class machines, but there was plenty of interesting stuff to see for everyone.
Here we watched E3D Online Tool Changer demonstrating its ability to change its tools continuously. For the first time we saw the Blackbelt3D station in action.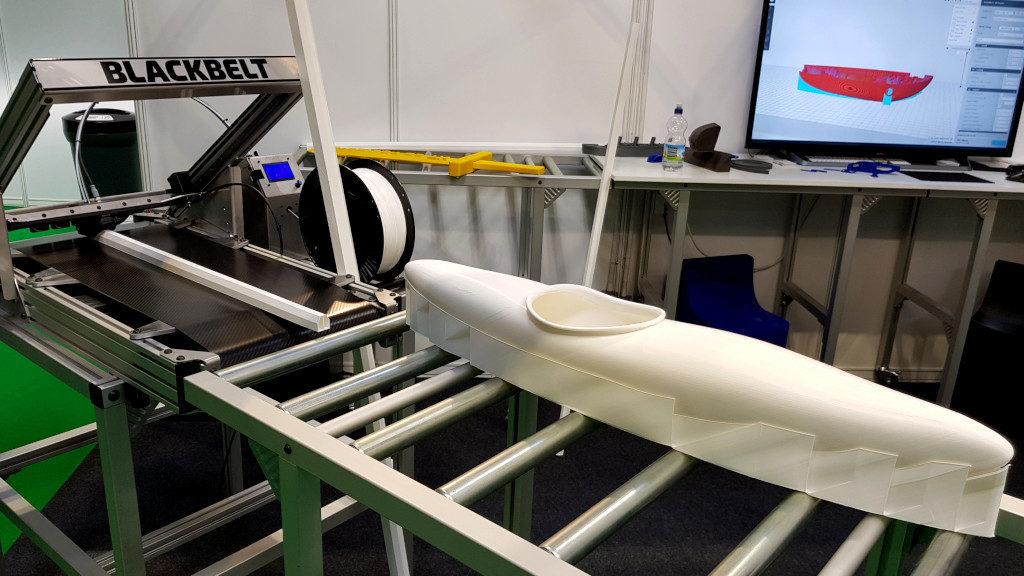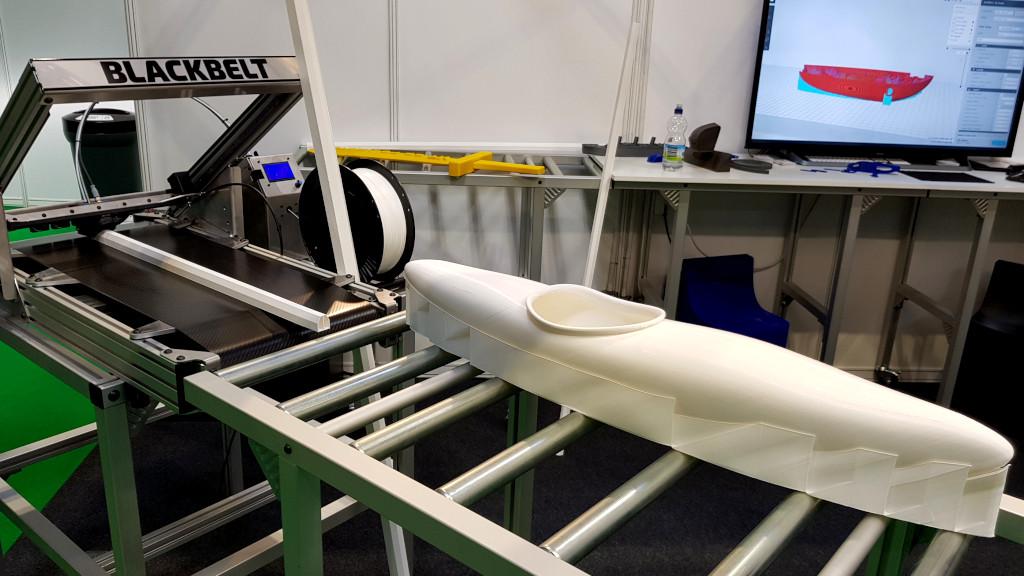 3devo displayed a filament shredder together with the filament-making machine. This gives us hope that soon enough every 3D printing enthusiast will be able to recycle unwanted prints and other plastic at home.
Prusa Research had three recently publicised items on display: MMU2, SLA 3D printer and Prusament Filament. It seems that lately 3D printer manufacturers have developed a trend for putting their own branded filament on the market.
Like in the previous year, TCT Show hosted classes for the younger visitors. The educational corner is now an integral part of the event, where a new generation is nurtured into the world of 3D printing.
TCT Show 2017
In 2017 TCT Show once again brought together 3D printer producers showcasing their newest upgrades. There were quite a few stands with filament producers promoting their new materials. We noticed that more and more material producers are focusing on eco-friendly solutions. During the event one could listen to inspiring keynote presentations, including from such giants as McLaren (F1), attend workshops, talk directly to decision-makers for business purposes.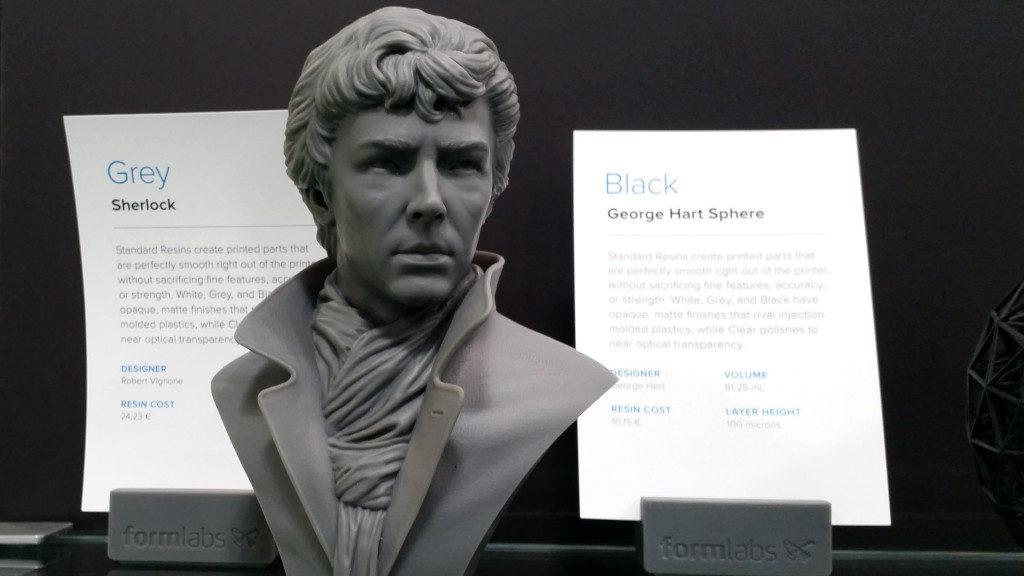 Additional Note
You don't have to be a professional to visit this 3D printing event. We observed groups of school children excitedly learning about additive manufacturing and viewing unique models. 3D software developers keep pushing the limits constantly surprising the audience with the abilities of 3D design.
One must not underestimate the role of 3D printing services companies in making this technology accessible to the general public. If you are planning to visit, we'd like to assure you that the location is very convenient for travel. The National Exhibition Centre (NEC) is right next to Birmingham International Airport and the rail station.
We've put together a table with important 3D printing events, exhibitions, and fairs that happened or will happen in near future. Here you can also find a brief coverage of the events made by 3D printing community members.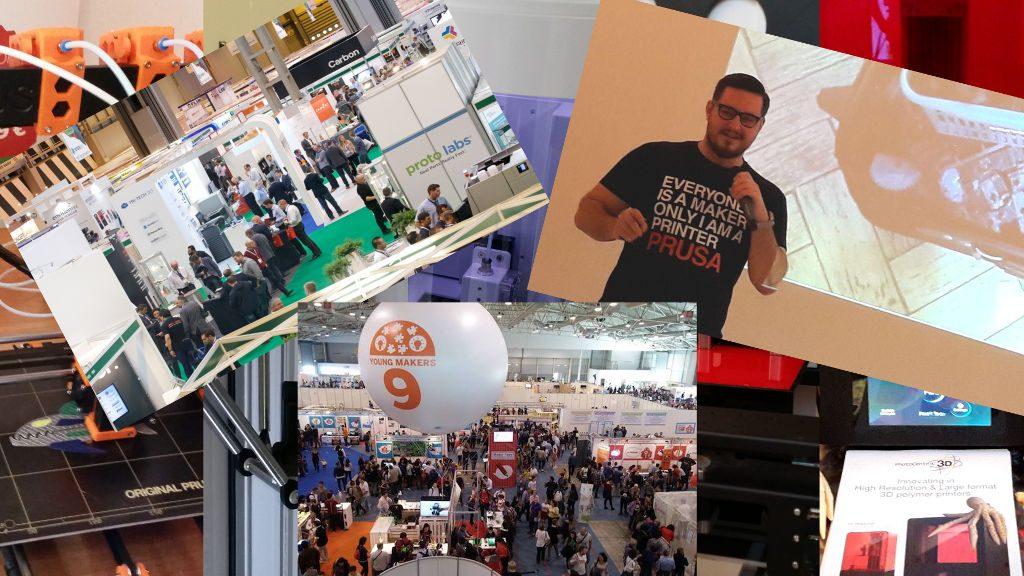 Source & Links:
Website:
https://www.tct3sixty.com
Twitter:
https://twitter.com/TCT3Sixty