One of the convenient ways to 3D scan objects or the scenery is by taking pictures from all angles using a mobile phone camera, what's known as photogrammetry or a photoscan. The images are then uploaded into a photogrammetry software for processing. After a clean-up, hopefully a quick one, the end result will be a 3D printable object. Also, it is possible to achieve a highly textured and rich-colored object with a stunning 3D view. The results may not be far from what the professionals achieve in their animation for games and 3D movies.
Of course, those who are lucky enough to use expensive equipment like cameras with multiple lenses and process the results in a licensed software, may get better results and spend much less time for post-processing the images. In this article, we will focus on what is possible to achieve by a casual user who wants to try photogrammetry for free/affordably with tools at hand.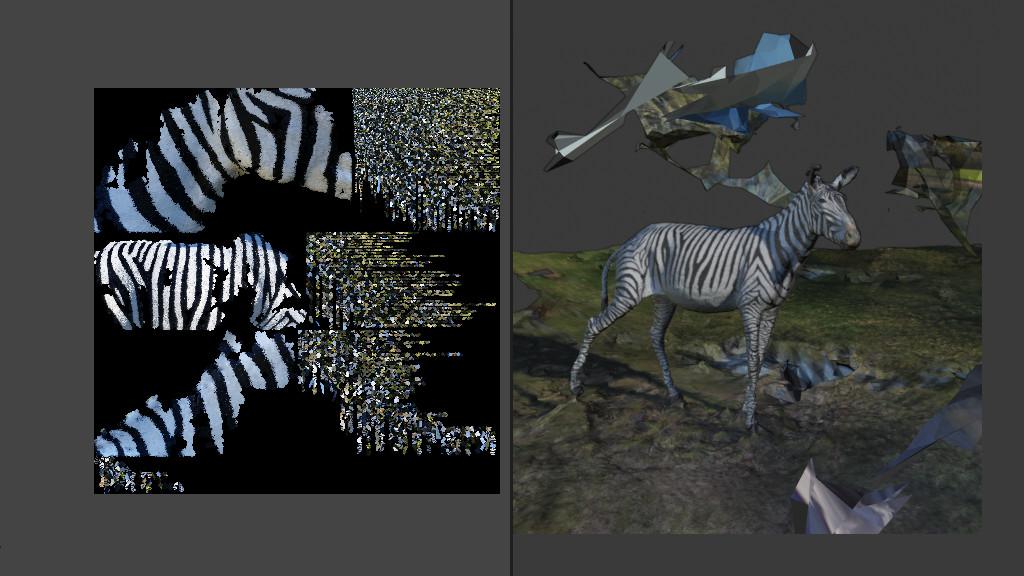 Photogrammetry – Learn and Capture Now – Process Later
Zebra. Once on holiday, knowing the basics of photogrammetry, I captured a beautiful zebra using my mobile phone. It was a very nice experience and time well-spent in the fresh air in a beautiful Paloma Park, in Spain. For a few years, I've been putting off processing the images, and my free Autodesk ReCap Photo (previously ReMake) 30-day trial expired. I liked using the ReCap software when processing the Dolphin Standard for the Scan the World, and a Cannon from Guild Wars 2, but paying a subscription fee for a rare casual photoscan doesn't work for me. To my delight, I achieved a surprisingly good result when I uploaded zebra images to Meshroom, a free photogrammetry software. Now I have a beautiful zebra model. A 3-year-old photo set didn't go wasted.
The Dolphin Lamp Standard was captured using a mobile phone camera, processed in Autodesk Re-Cap, and further reconstructed in Meshmixer.
Photogrammetry Tips & Tricks
Before going further, the first thing we have to learn is taking the pictures for the photogrammetry software. Here are some tips and tricks:
– The amount. At least 50+ depending on an object. As I mentioned earlier, capture now – process later. Some pictures may be blurry, as we are using the mobile camera, and then the photogrammetry processing software may reject without a known reason (for a casual user), so the more the merrier.
– Make sure that your object stays still and is not shaking, changing position while taking the pictures. If the object is accidentally moved during the photo session, it's better to start all over.
– For shiny or reflective objects, the only way to capture them is to make them stop reflecting the light. To achieve this, cover them temporarily in some matt solution. Otherwise, the photogrammetry software will be confused, and the photoscan will fail.
– Focus and capture all pictures manually. Use the Open Camera app for mobile phones.
– On and off sunshine during capturing your object may also confuse the software. The best photoscans can be achieved outside but it should be in the consistent lighting. A cloudy day is better as there are no shadows that may cause a problem. If the object has a lot of shadows, pay extra attention to the places affected and take more pictures.
Photogrammetry and Turntables – Bad Results When Using a Mobile Phone
Photogrammetry software greatly benefits from mapping the environment by measuring the distance between the object and points in the environment. In case of a turntables, the location of the object pointers keeps changing, which causes a big mess for the processing software.
Here are a few pointers on how to achieve good results with a professional photo camera. Please don't be fooled that this is possible to achieve with a regular mobile phone camera.
– Consistent lighting. Mini LED-lit studios, for it not to recognize any other points around the object.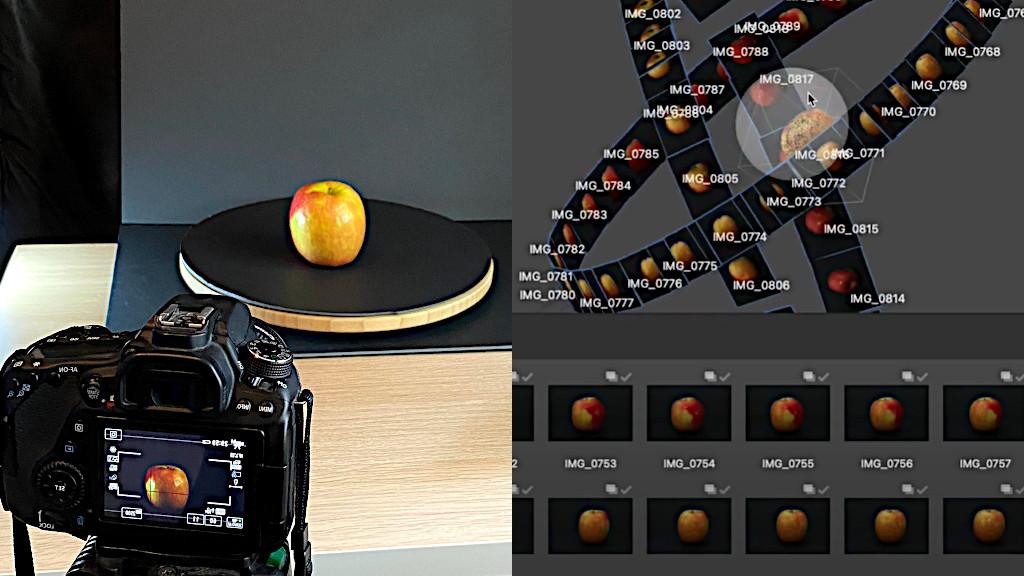 – Consistent void. Black matt blanket and clear focus, again, for it not to recognize any other points around the object. Check how Andrew Sink creates a void background to 3D capture an apple by using photogrammetry and Agisoft Metashape software.
So basically, in both cases above, there are attempts to trick the photogrammetry software into believing that we are actually going around capturing the object.
Meshroom – Photogrammetry Processing Software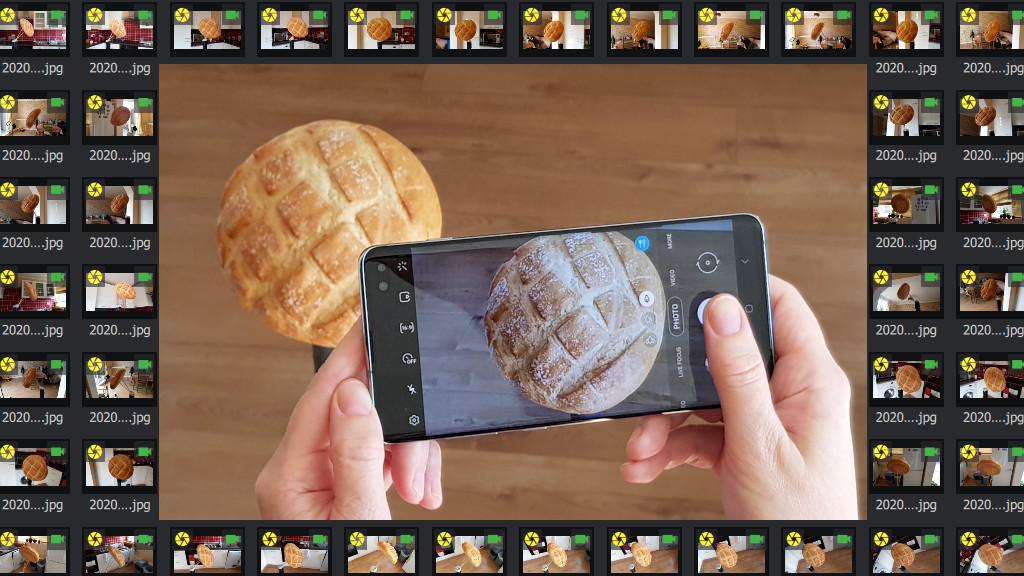 NB! Software is dependent on Nvidia graphics cards.
After briefly trying a few other free/affordable 3D scanning related software (a table is coming soon), I stopped on the Meshroom, which struck me with a straightforward interface. Everything is presented on the same screen, and the whole software tutorial can be done by using a single screenshot below.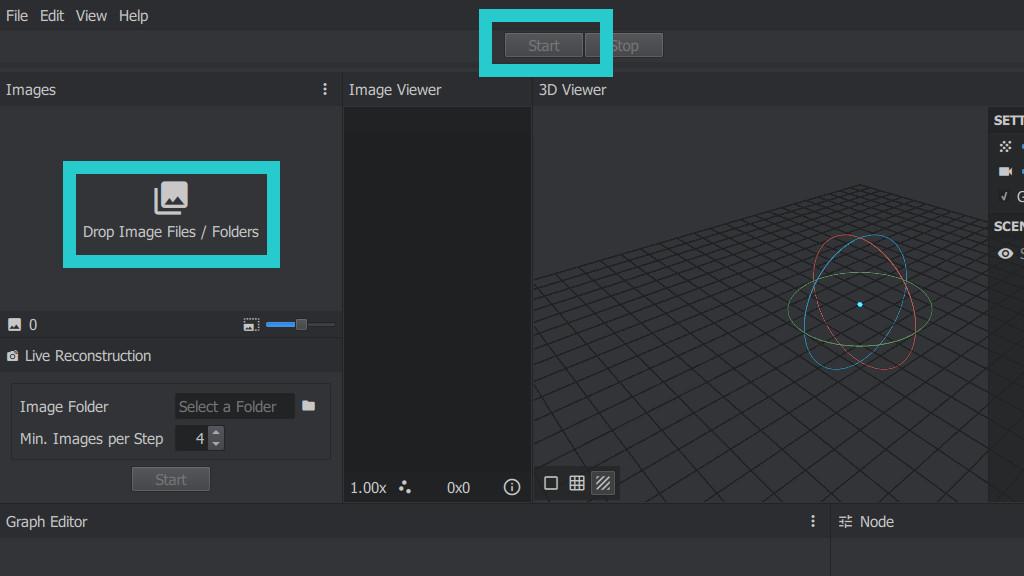 1) Load the images
2) Press the "Start" button.
3) Wait patiently. Depending on the number of images to load, the quality, and your computer capabilities, it may take over 3 hours to process.
When the processing is completed, you will see the "Load" button in a 3D viewer section. Don't be put off when you see a lot of debris. It is easy to clean those up using Meshmixer or Blender. The only place where I got confused was how to export an .obj file as there was no "export" button on the interface. To find the .obj file, go to the Meshroom Folder – MeshroomCache – Texture. Then open a folder with a very long name.
So far so good, and if you need just an .obj file for 3D printing then the next step is Blender or Meshmixer for the clean-up. And if you want to upload a beautifully textured model to Sketchfab, please mind that there is a limit for the file size. Sketchfab accepts files of max. 50 MB.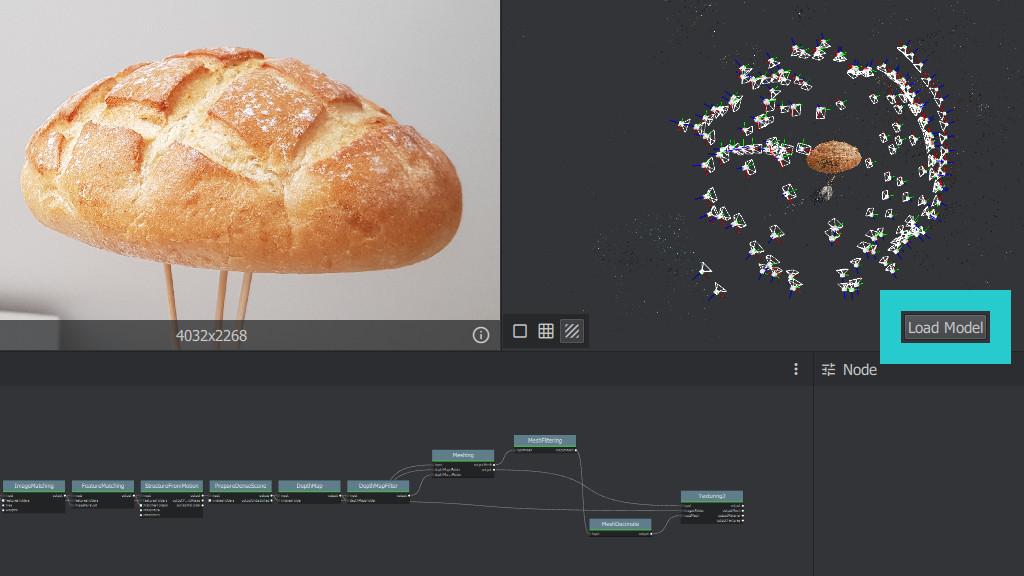 To help with the cleaning and the file size reduction process, I found a detailed Meshroom tutorial on the Sketchfab, which was very useful. By following the "Decimate Mesh" and "Adjusting Parameters" instructions step by step, I managed (using nodes) to reduce the file size of my Loaf of Bread from 120 MB to 18 MB. Click and rotate the model in Sketchfab view.
Clean up .obj File and Get it Ready for 3D Printing or High-Quality 3D View
Cleaning up, patching and getting ready for 3D printing can be done in Blender or Meshmixer. In Blender 2.8 "Edit mode" select all surrounding debris with a lasso selection, delete them, patch the holes, and export as STL. Check the course by PTT with a 7-days free trial, if you need to learn basics. Here is a detailed review of the Blender 2.8 for 3D printing.
Sketchfab Uploading Tips: The Limit is 50 MB
As any 3D design for 3D printing creator, I have some experience in uploading STL files to file repositories. Uploading a .obj file with the high textured 3D view onto Sketchfab may feel a bit tricky and may take a few attempts until it is done in the right way.
To successfully upload a model with textures you have to send all files, for example, .obj, .mtl, .png together in a zipped folder.
If you've ever been interested in using your smartphone as a 3D scanner, there's no better time than right now to give it a try…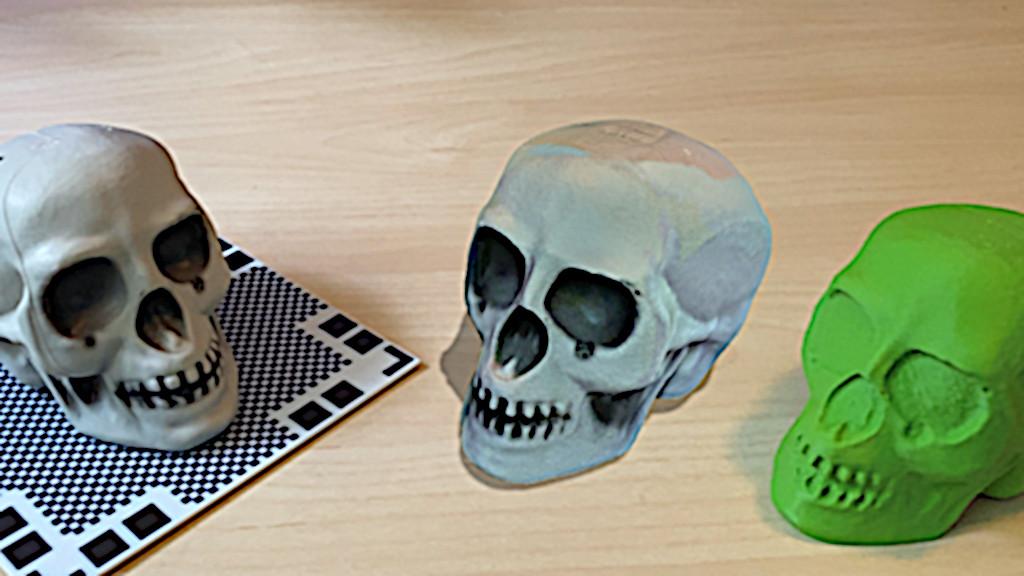 It is possible to use 3D scanning and vase mode 3D printing to achieve a real tree texture effect for functional or decorative items. There are many trees that carry a piece of history or sentimental value for someone. It may be an oak, which can be hugged by five or more people. This tree outlived quite a few generations and maybe under protection of local conservationists. It could be a maple that holds a swing, or a pine with awesome cones. Even a birch 3D scanned texture can be transferred to an object…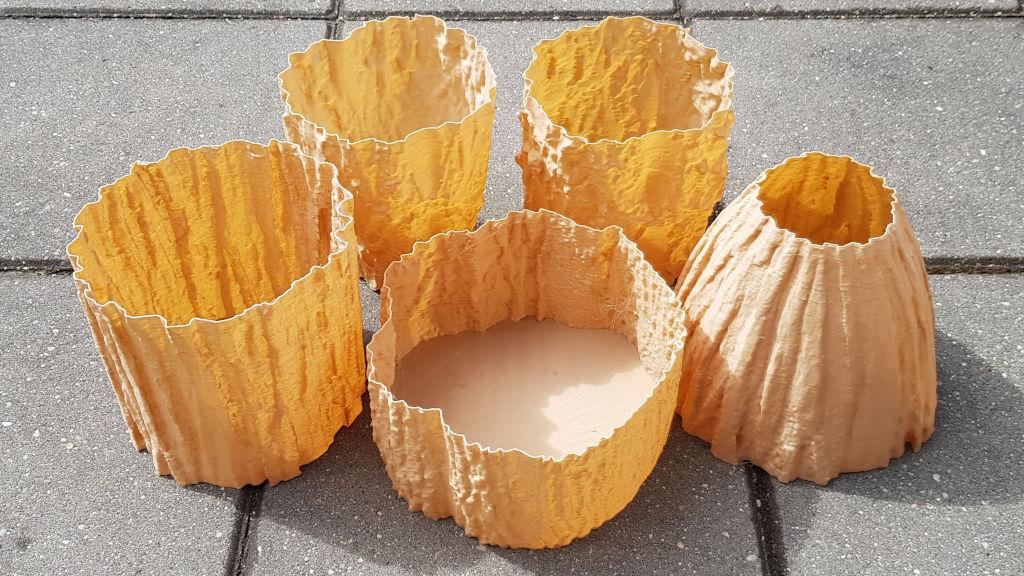 In the YouTube video below we briefly show the way to transfer the texture of any tree to a 3D printable object. It is possible to achieve this using just a mobile phone camera, photogrammetry software like Meshroom, and 3D design software like Blender3D for texture cleaning for further editing.
Source and Files:
Meshroom
photogrammetry software.
Meshroom Tutorial
by YANN LANTHONY on Sketchfab.
Loaf of Bread
by Max Funkner
Oak, Birch, and Pine
3D Scanned Tree Texture Collection on Cults3D.
Did you like the article? Please share.