A few years ago we chose a relatively unknown back then Italian DeltaWASP 2040 to be our first 3D printer. It arrived in a washing machine size box and it already included a spool of PLA filament and an SD card with several files. This helped us to start printing straight away using the pre-loaded Gcode files. A 3D printed gnome was also included as a sample, so we had an idea what our prints should look like.
Although in 2015 DeltaWasp 2040 was considered to be a machine for Intermediate users, and we had to learn handling manual bed levelling plus one of the first versions of Cura slicer, we are very happy with our choice. The prints came out nicely from the very beginning, and we gained confidence for testing and experimenting.
DeltaWASP 2040 Specifications
– Nozzle 0.4 mm
– Print Area 200 mm diameter x 400 mm hight
– Aluminium Plate
– Circular Build Area Shape
– Filament size 1.75 mm
– Max Speed 300 mm/sec
– Resolution – layer height from 0.05 mm (50 microns)
– Materials: PLA, ABS, PETG, Plywood, Nylon, Polystyrene, Flex, Experimental
– Resurrection system
DeltaWasp 2040 has an eye-catching design, it stands out next to conventional extrusion 3D printers. Our first impression was – a Robot. Compared to other desktop 3D printers DeltaWASP 2040 is flashy and noisy, fast, stylish and expensive – it is an Italian Ferrari indeed! It kept achieving quality prints at an impressive speed.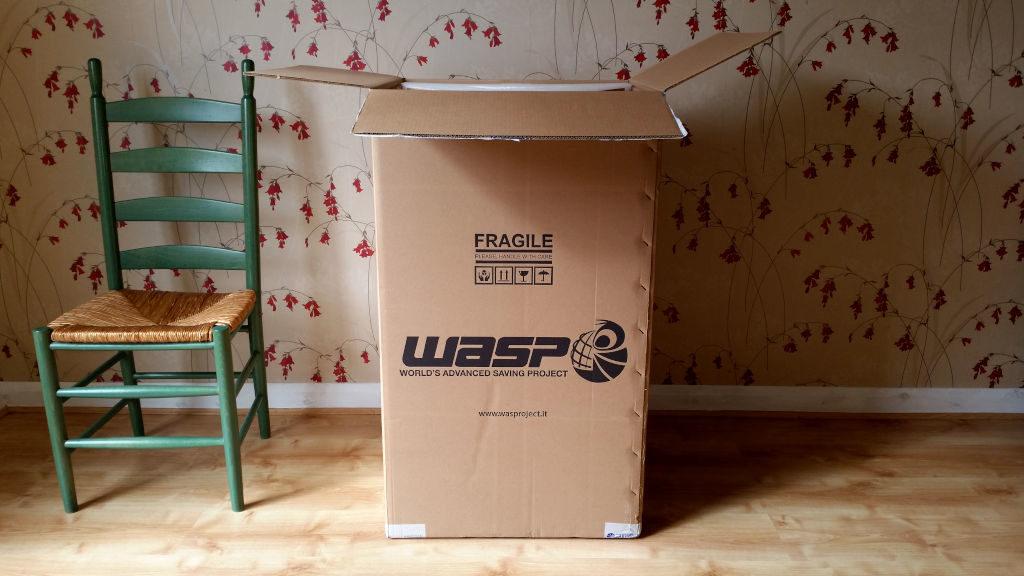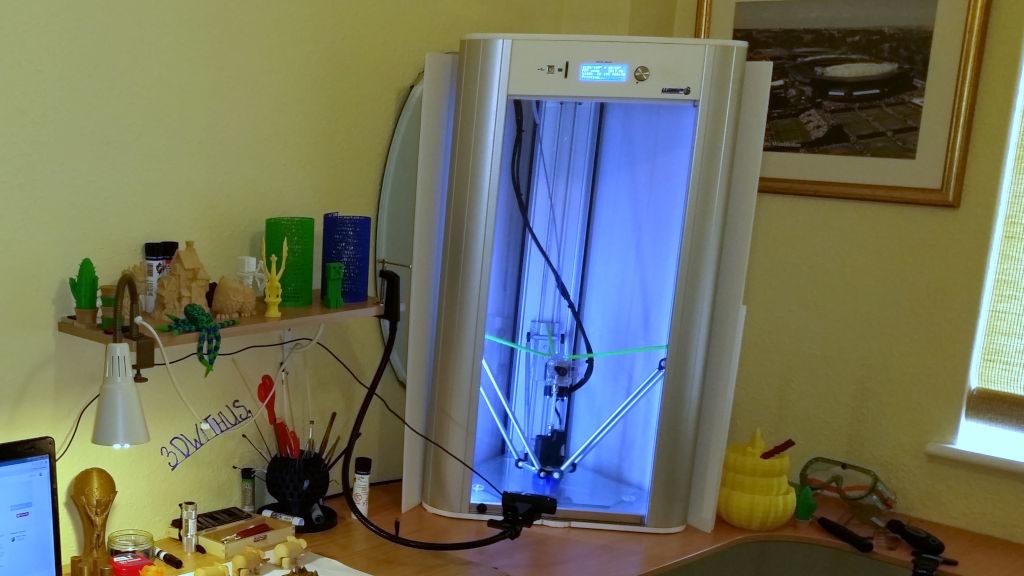 Delta WASP is one of the most versatile 3D printers. It has a big build volume and it can use a wide range of materials. There is an option of an additional extruder to buy, which will allow to work with clay, porcelain and other fluid-dense materials creating beautiful crockery and vases. We have never tried these types of material as we feel that a special workspace might be needed for this practice.
Its ability to print in a range of different filaments helped us to dig into 3D printing more thoroughly. We tried ABS, PET, Wood-like and flexible filaments. For the flexible filaments, we had to learn to tweak the slicer carefully as Bowden-type extrusion systems needs more attention in this respect.
For us it was important that a 3D printer could print quickly. As this was the whole new experience with a new technology for us, we tried to not leave our 3D printer working overnight. In this regard, DeltaWasp 2040 did and still does very well. We still use this machine for the most of our bulky prints. It also has a resurrection system, which can be helpful during a power cut, for example. It allows to pause printing for the night with its Stop & Save option. We've never tried this option though.
"DeltaWasp 2040 – Unboxing and Testing 3D Printer" was the first uploaded video on our YouTube channel. WASP sells different versions of this machine nowadays, but our video still gives a clue of what it would look like and what to expect. However, we do recommend to check the WASP's official channel for the subject of new updates. Also, practically all unboxing videos get outdated sooner or later.
3DWasp keeps updating their machines including DeltaWASP 2040 make. In their last YouTube video we saw a few implementations added, such as auto calibration, end filament sensor and a spitfire extruder. All new printers come with aluminium plates instead of a glass bed that we have (yes, we still have our first-hand glass bed).
About WASP
Same as before, WASP assembles and develops desktop 3D printers for enthusiasts and professionals to fund their main project, which is noble indeed. Tirelessly, they are developing and testing big delta stations that can build houses using natural resources, like clay and rice. Even locally taken and grinded mud was tried as a construction material. You may check the results by following their YouTube channel.
With strong demand for serial production, WASP offers a new solution, offering the possibility for producing small series of objects and allowing fast and cheap product variations with the new customized serial production. Delta WASP 2040 PRODUCTION – offers an automated process for 24h 3D printing with technical materials and an automatic 3D print removal system.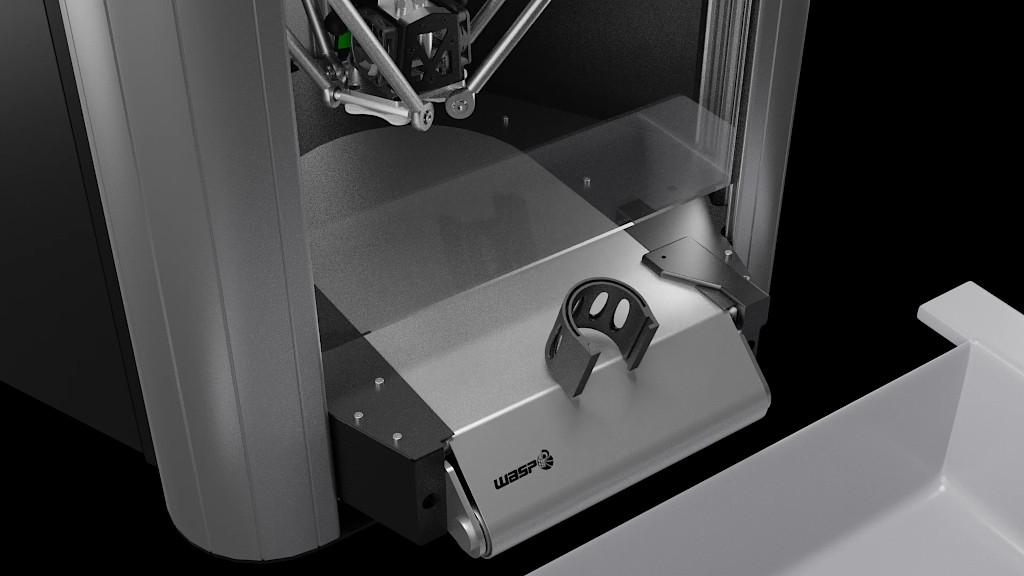 The topic of 3D printing buildings has come up frequently in the past few years, but few companies have manifested as interesting a concept as the Italian industrial 3D printer manufacturer WASP (World's Advanced Saving Project) with their Crane WASP 3D printer.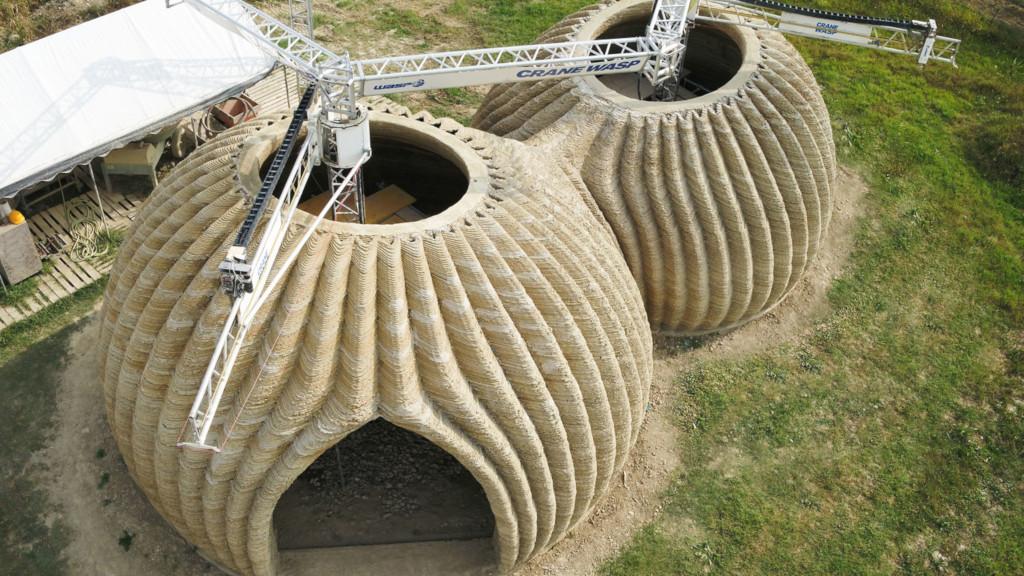 Featured STL Files & Links:
Artichoke Art Pencil Holder by Gizmoticist:
thing:332206
Gnome by MakerBot:
thing:138642
3D WASP Official Website:
3dwasp.com
Resellers in UK:
Daemon 3D Print
Read More & Compare
Read more about desktop 3D printer builds and processes. Type, volume, FDM or Resin, all to consider. Or jump to the latest 3D printer reviews.
For a comparison with other FDM 3D printers please refer to the
detailed budget FDM 3D printers guide.