Recently, print-in-place articulated dragon 3D printable models became very popular. A few TikTok and YouTube videos went viral getting attention even from people outside of the 3D printing community. With the small price tags, digital files got sold in thousands on file repositories breaking the stereotype that 3D printer owners are reluctant to pay for STL files. Let's have a look at the best models, mention their creators, and find out why such models became popular. We will also touch on the general tips & tricks and slicer settings to reduce failure risk when printing such advanced objects.
This guide covers
How it All Started
At first, there were traditional dragon 3D printable designs, like Arya and Adalinda by Louise Driggers. Such dragons evolved and became highly detailed and sophisticated, perfect as figurines for resin 3D printing.
– Flexy articulated craze. In the past, we wrote an article about flexi articulated toy models. These filament and time-wise inexpensive prints were popular in the last decade and we would recommend them now for all 3D print beginners as learning or warm-up models. Try T-Rex and other creatures.
The closest ancestor to the modern popular high-detailed articulated dragons, we would say, is Flexi Dragon by Benchy4Life. This model with two separate wings is a very popular model with about 500 makes on Thingiverse.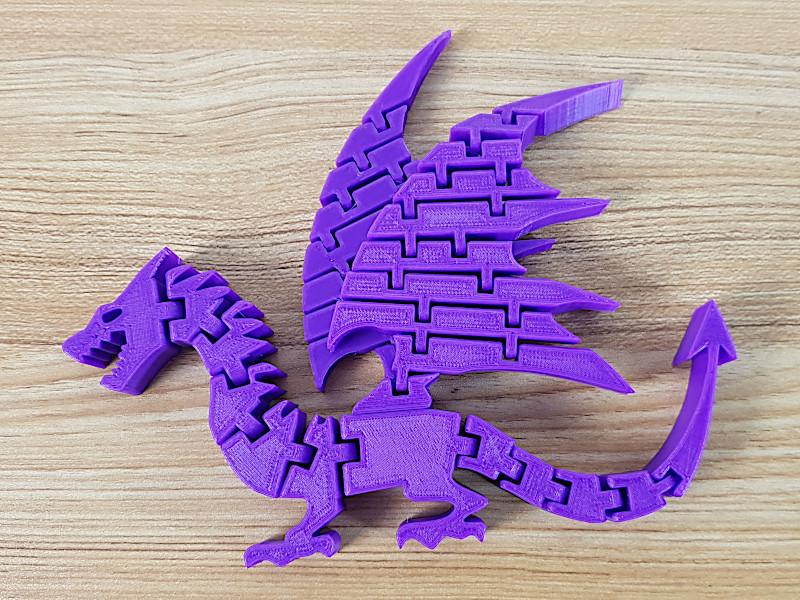 Why Dragons are a Popular Choice for 3D Printing?
Needless to say, dragons are one of the most loved mythical creatures. Many books have been written and movies were shot to feature these magnificent creatures in all possible forms. Here are the main reasons why dragons are popular in the 3D printing community:
– Variety of designs. If real-life creatures have certain features/characteristics that cannot be altered, then with a mystic creature, like a dragon, the imagination can go wild. Take a look at the Cinderwing3D themed articulated dragons' collection.
– Technical reason. One of the biggest reasons why print in place articulated dragons became so popular is technical – you cannot injection mold it and mass produce it cheaply. Just yet. Maybe there will be a sort of foldable, "click together", option in the end. There isn't now.
Articulated Dragon by McGyBeer
This particular model is an exceptional, never seen before in the 3D printing community, success story. 40K paid downloads as of the time of writing this post with thousands of physical models sold across Etsy, eBay, Amazon, and probably other platforms. This model became a sort of a stereotype breaker. 3D printer owners, who were believed to be reluctant to pay for STL files, showed proved this wrong with the massive bang.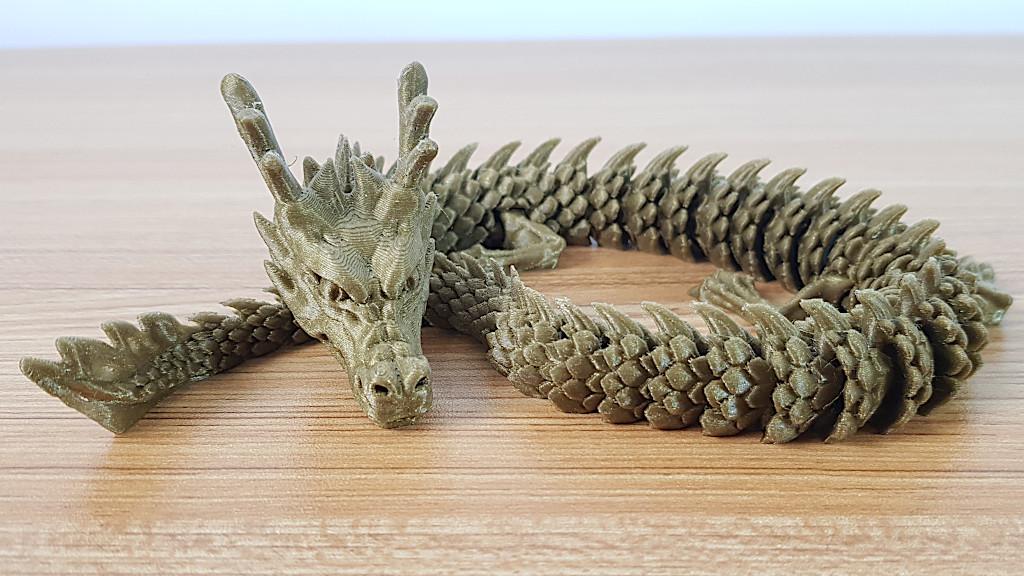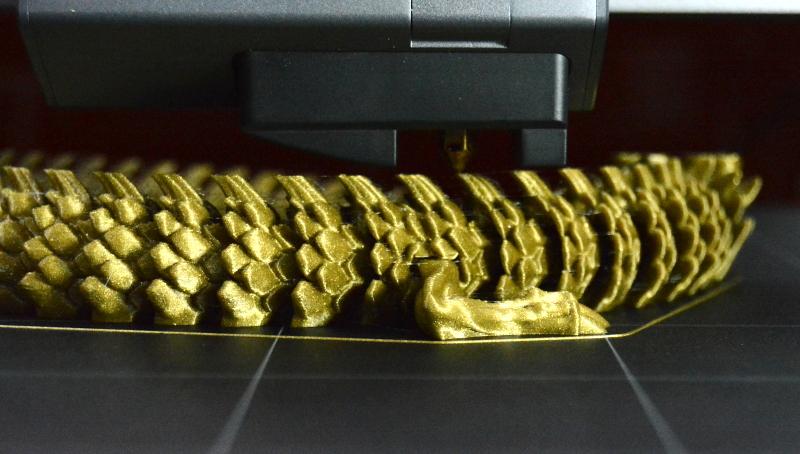 We bought an inexpensive digital file to both try the model and to test a Snapmaker 2.0 A350T 3D printer. An 18-hour long print with well-tuned settings worked well for us. Now we have a cute dragon in Amolen Bronze PLA. We must admit that after testing a few similar dragons, Javier's model is the closest to perfection. Even the scaled versions are printing well on both FDM and resin 3D printers.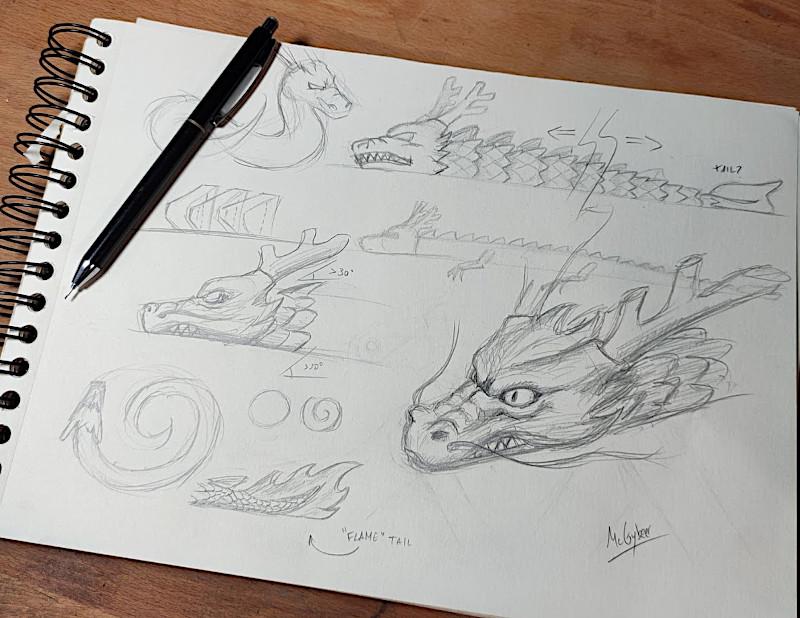 There is an interesting interview with Javier Rodriguez on the Snapmaker website where he shares the story of how he started 3D printing flexible articulated models.
CinderWing3D – Crystal Dragon
We picked Crystal Dragon as one of the best but we must mention the whole collection.
If some designers try to 3D print ideas from different themes, then Cinderwing3D created a brand only around the articulated, print in place dragons. At the moment of writing this post, their collection has seven themed dragons: Crystal, Woodland, Rose (Valentine's Day), Void Sea, Flying Serpent, Lucky Clover (St. Patrick's Day), and Easter Dragons. As we can see they cover all maker-friendly events, we will be on the lookout for the Halloween Dragon model. We are especially looking forward to seeing a special version for the glow-in-the-dark filament.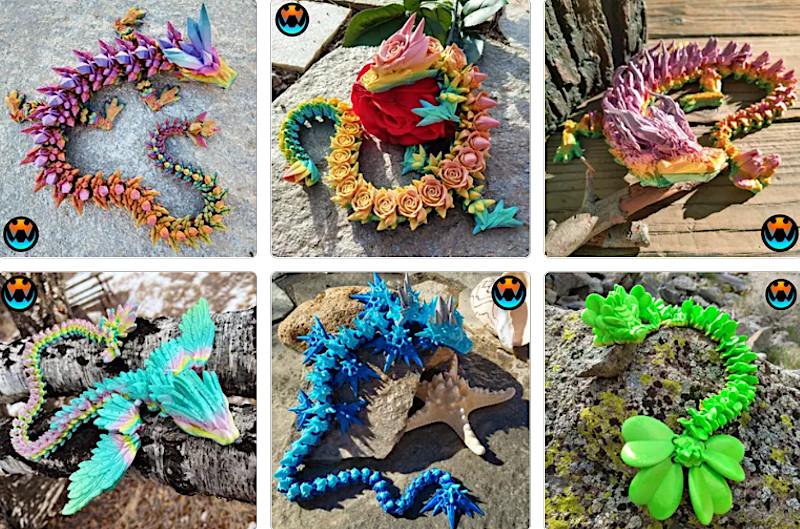 Our fellow author on 3DWithUs, Will Zoobkoff, gave us permission to use his images of the Easter Dragon. He printed this model to test the capabilities of his new Anycubic Kobra.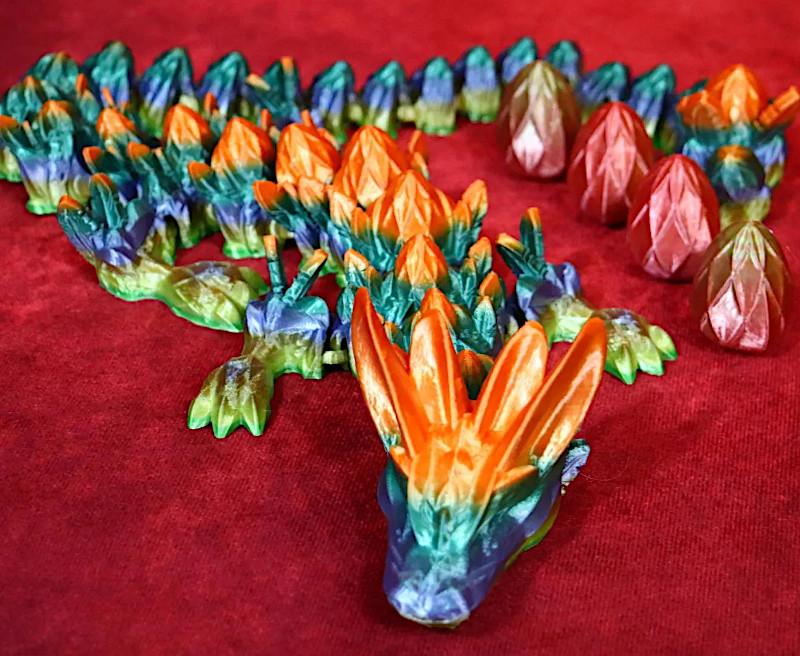 Imperial Dragon by Flexi Factory
Dan Sopala and his brand Flexi Factory have been the leaders in the flexible 3D prints department on Cults for a long time. It was obvious that after the viral popularity of flexible dragons and appearance of many new models, Dan will design his own version. And a few months later flexi print-in-place Imperial Dragon was published. Compared to competitors, Dan's model has a great unique feature – it can take a gracious position. We have to mention a brilliant idea implemented in the design by fusing together joins 5, 6, and 7.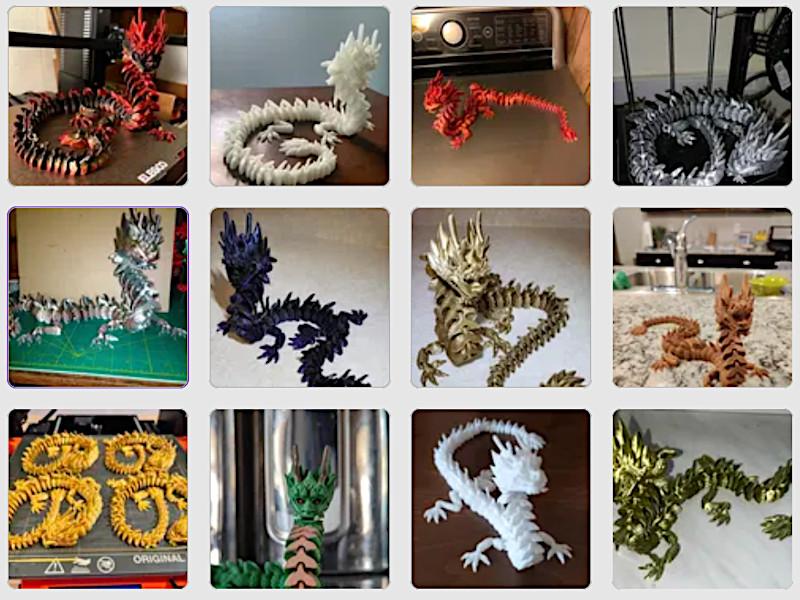 This model is medium-to-difficult to print. Needless to mention, the perfect bed adhesion is a MUST, or even a raft, if your 3D printer is struggling. The right cooling is very important, too, as there are 80 curved spikes on the back of the dragon. With insufficient cooling, the individual spikes get slightly warped and may catch the traveling extruder. As a result, a layer shift or a joint detachment from the print bed may occur. Z-hope is also the setting to play with. Read more about the general settings further in this article.
Themed Dragon Collection by Dragons Den
Another vast collection of articulated dragons and other mystic creatures can be found on CrealityCloud. There you can also find cute baby dragons designed as themed decorations for Halloween and Christmas. In order to sell physical printed objects of his models, the designer asks to join his Tribe on MyMiniFactory.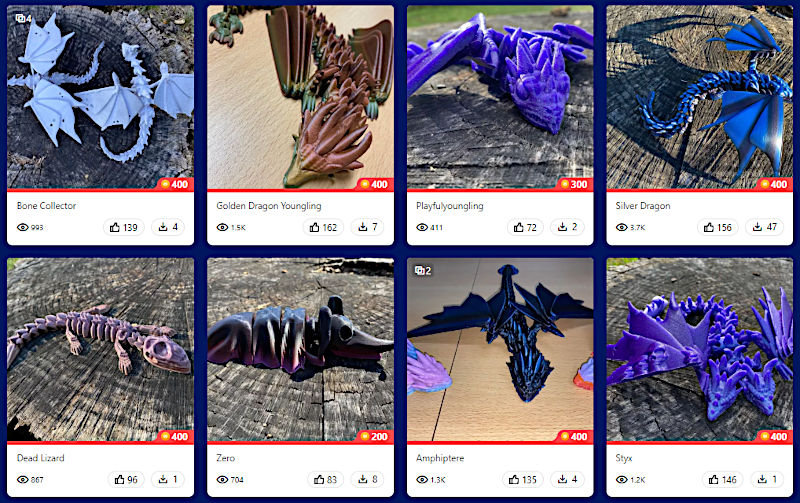 I printed an Articulated Hummingbird designed by Dragons Den using Eryone's Silk Dual Color PLA, which I ordered from Amazon, as part of my Creality Ender 3 V2 Neo review. Working with dual-color materials can be challenging compared to Rainbow PLA, as getting the pattern right can be tricky, but it's still an intriguing filament to experiment with. Despite the intricacy of the pattern, this particular print lasted over 10 hours and the outcome turned out surprisingly well.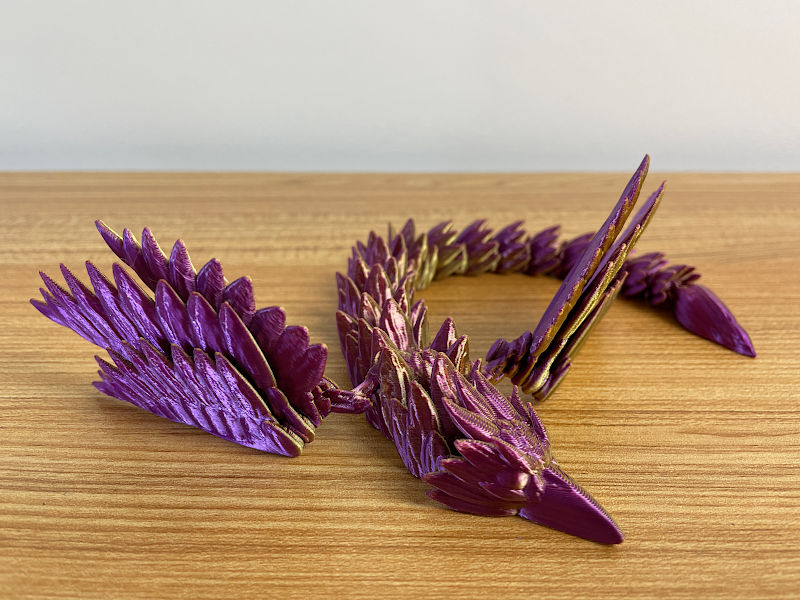 Seasonal Articulated Dragons
Coincidentally, I reviewed the Creality K1 during the Halloween season – the most popular season in the 3D printing community. Obviously, I printed zombies and skulls. One of the remarkable models that caught my eye is the Flexy Zombie Dragon by Toonz Factory. In SUNLU Green Antistring PLA from Amazon, it looks stunning as it is, without painting.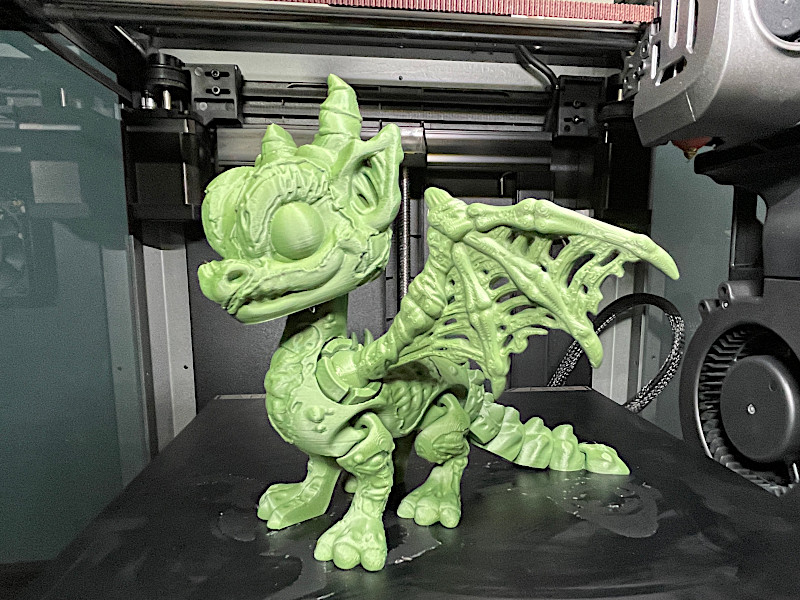 I used default settings in Creality Print software without adhesion settings to avoid excessive cleaning. The 70% scaled model took only 4-5 hours to print. As usual, Magigoo from Amazon helped with bed adhesion. It was very easily removed from the bed and assembled, namely attaching wings and head to the body. The model is not just wiggly but can also take various positions. This model is definitely one of the favorite models in the Halloween 3D Print Ideas collection.
How to Print – FDM 3D Printer General Settings
– Bed Adhesion. We can't stress enough that bed adhesion plays one of the major roles. For example, Flexi Dragon by McGyBeer has 44 different joins on the bed. Even if one fails to stay in place in the middle of printing, it may cause a major failure and it is highly likely that a layer shift will happen. If your printer's bed doesn't have the perfect adhesion, try using rafts.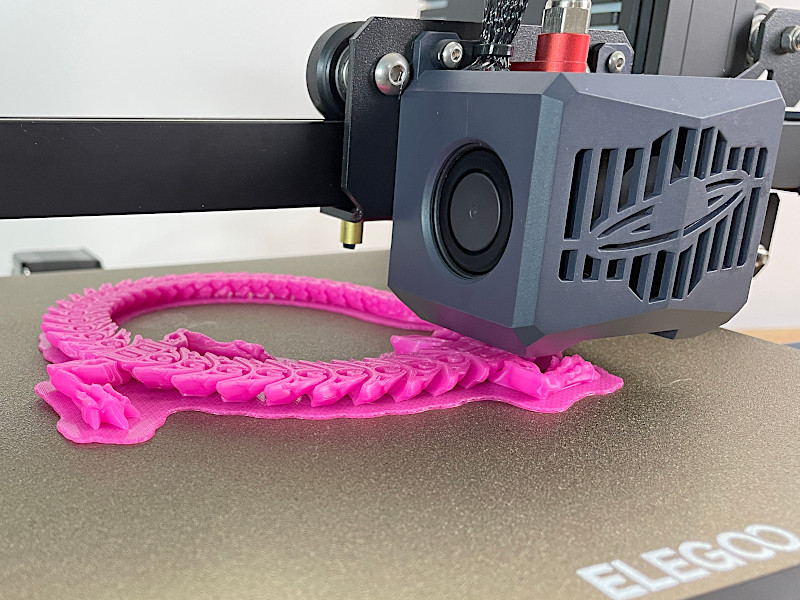 – Rafts. For the Neptune 3 review purposes I printed two flexible articulated models by McGyBeer – an Articulated Dragon and Lizard. In both cases I used the rafts to secure bed adhesion on multiple joints and the basic Cura slicer software settings. Scaled to 90% took me about 10 hours to print. I am happy with the result. Started appreciating the rafts more.
– Bridging. Articulated parts depend on good bridging. There should be no sagging, especially for the scaled models as joins may break.
– Speed. Slower the better, especially for the first layer. 30mm/s
– Warping. Most of the dragons have scales or horns sticking out. And if the warping happens, the nozzle has a chance to catch a slightly raised part, detach a joint and cause a layer shift.
All models we featured in this article have many makes published by other makers. It is interesting to see the filament picks and general settings that worked well for them. Good luck with printing!
How to Print – Resin 3D Printer Settings
As far as we know, the scaled articulated dragon model by McGyBeer can be printed on mid/large-volume type resin 3D printers like Mono X, M3 Plus, Saturn, etc. We would strongly recommend watching a video by Uncle Jessy on the subject.
Resin print removal with a pointed spatula
©3DWithUs – MP4: Max Funkner
We featured 3D printed in resin, an articulated dragon in Elegoo Saturn 2 review.
Excample: Tough Resin Settings
Here is the print with the RESIONE M68 Tough White resin. Please find the screenshot with M68 Tough settings for Photon M3 Plus.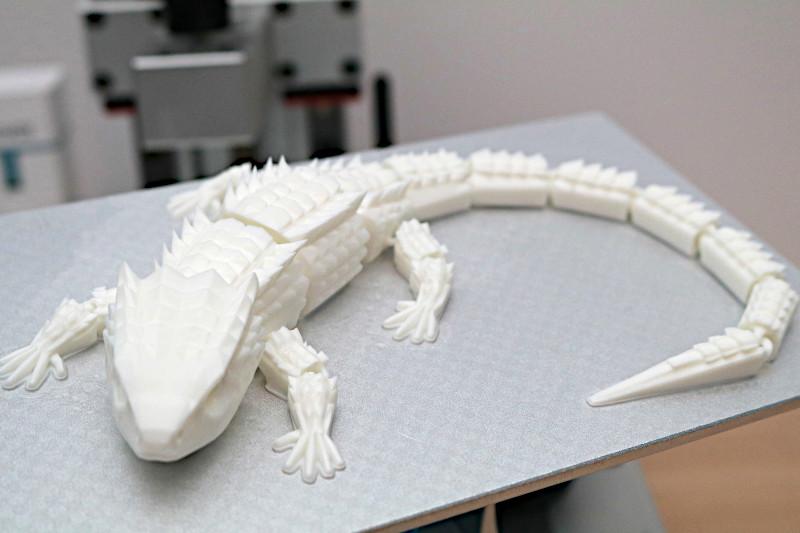 Design for 3D Printing – Successful Business Model
A slightly off-topic subject, but as it involves the mentioned print in place dragons, here we go. Cults has a very interesting Leader board page where visitors can check the Best Designers by number of Downloads, Followers, Sales, and Likes. This is an interesting place to have a look at the performance of the leading designers.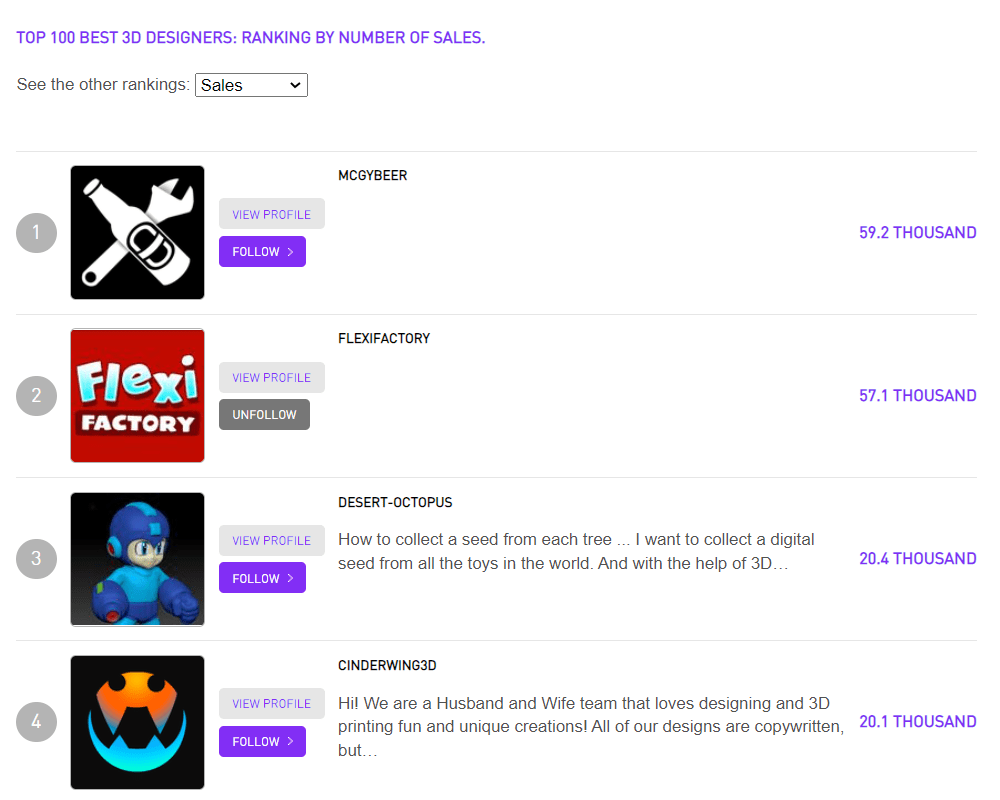 Please remember that these models cannot be sold commercially unless permission is acquired. Both Flexi Factory and Cinderwing3D have very impressive Patreon pages with a subscription system. To acquire the license for selling the Articulated Dragon by McGyBeer, please follow the instructions on his page.
Conclusion
What happened with the articulated dragons can be compared to the shield visor parts printing hype during the pandemic. At first, FDM and resin desktop 3D printers became the only way to produce certain emergency parts at a specific time and specific place. Later mass manufacturing finally kicked in. Articulated print-in-place dragon models have seen their hype, too, but are not factory mass-produced, yet.