Before buying Original Prusa i3 MK2 we didn't know that it would become the best 3D Printer of the year according to "Make" magazine and to "3D Hubs" community. We first saw Prusa in action in autumn 2016 at the DIGICAL in London organized by iMakr. Even though a 4-feeder upgrade (MMU) was not available for sale yet, we thought it was good that the manufacturer was trying something new. Click on picture to zoom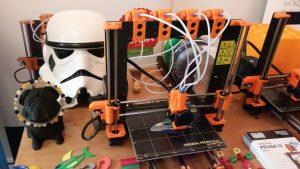 We've been thinking of buying one more 3D printer for a number of reasons. Firstly, we wanted to try something different. We've had a great experience with our Delta Wasp 20 40, but wanted to go for a different process or printer type. Another reason was that using one printer was not enough, when we were aiming to finish a project before the end of weekend. We seriously considered getting a DLP printer, and we saw a very attractive one at the Digical Show. However, after considering our options we decided to go for the second FDM printer, but a cartesian type. It could utilise the same material, save us money, space and time.
Original Prusa i3 MK2 Shipment
Fulfilment time for the order was a huge 6 weeks plus there was a 2-week delay on top of that. And we think it could be even longer if we didn't bother Lukas, an online chat assistant. We kept asking him for updates on the shipment every day for several days in a row. We must admit that the online chat support staff does their job very well. We can imagine the pressure they were under at that time of the year. Everyone would like to have a new printer delivered in time for Christmas break. Click on picture to zoom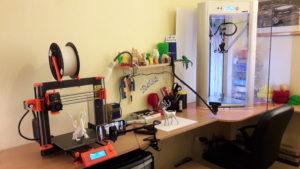 In our YouTube video below, we are showing the unboxing, calibrating, changing filament and our first prints with Original Prusa i3 MK2. On the first day, we tested two G-code files that came with the manufacturer's SD card. The results were of a brilliant quality though we didn't expect the printing speed to be so low. We think that in the near future we will find a perfect balance between quality and speed. As we are the ones who never leave our printing machine on overnight for safety and sleep quality reasons, speed matters a lot. Afterwards, we took a file from an STL sharing website. We were pleasantly surprised that Simplify3D supports Prusa i3 MK2 and has its default settings for slicing objects.
Now, that we have 2 different types of 3D printers on our hands, Delta and Cartesian, we can make the comparison and post our reviews after we've tested the new printer thoroughly.
We bought our printer here: shop.prusa3d.com
Choose a desktop 3D printer that is right for you. Build volume, FDM or SLA, well-known brand or a start-up – all to consider. The table below helps to … Read more

Please sign up for the New Post Alert in order not to miss our new posts.