Choose the right 3D printing material for the right job. Here you can find the type of filaments and resins available together with detailed reviews and picture galleries for the most used materials in desktop 3D printing. PLA, ABS, Wood, PET, PETG, Nylon, Support, FLEX, with more reviews coming up.
Materials for 3D printing at home are becoming cheaper as more and more manufacturers appear on the market. Scroll down for the list of brands and the general materials overview. Read more about materials for desktop 3D printing below the table.
List of 3D Printer Filament Brands
Work in progress ...
Type
Producer
Site/Link
Country
PLA; PETG; TPU;


Refill

;
DAS FILAMENT

Germany
PLA; PETG; TPU; ABS; Wood
Ecoreprap

China
PLA; HTPLA; ABS;

Cardboard

;
Proto Pasta
Available on Amazon

Canada
PLA; ABS; Pellets;

Refill

;
3D Print Works
UK
PLA; ABS; PETG;

Refill

; Resin
eSUN
Available on Amazon
China
PLA; ABS; PETG; TPU; Nylon; Carbon
Amolen
Available on Amazon
China
PLA; FLEX; PETG; ABS; other
Filament & Meer
Netherlands
PLA; PETG; Wood; FLEX; Metal; other
ColorFabb
Available on Amazon
Netherlands
PLA

Polyalchemy
China
PLA; ABS; PETG; TPU; Wood; other
Hatchbox
Available on Amazon
USA
PLA; ABS; PETG; Wood; FLEX; Metal; HIPS; Nylon; other
FormFutura
Available on Amazon
Netherlands
PLA; ABS; PETG; other
TREED
Italy
PLA; ABS; PETG; other
Hello3D
Available on Amazon
China
PLA; ABS; PETG;

Refill

;
SUNLU
Available on Amazon
China
PLA; ABS; PET; BVOH; PP; PRIMALLOY; other
Verbatim
Available on Amazon
Japan
PLA; ABS; Wood; FLEX; Nylon; Support; other
Fillamentum
Available on Amazon
Czech Republic
PLA; Wood; Support; other
Polymaker
Available on Amazon
Netherlands
PLA; Wood; Flex; other
BQ
Spain
FLEX; PLA; ABS; HIPS; other
NinjaTek
Available on Amazon
USA
PLA; ABS; FLEX; PET other
MatterHackers
USA
PLA; ABS; PETG; other
3D Solutech
Available on Amazon
USA
Please feel free to contact us if you think that a particular brand or material should be added.
– Refill; Cardboard
– These tags mean that these brands have
eco-friendly options for the spools
. Please check their websites as such options may not be available on marketplaces such as Amazon, etc.
– Resin – For SLA, Resin 3D printers.
– Pellets – Rarely used for the FDM desktop 3D printers.
FDM Filaments for Desktop 3D Printing
PLA is still reigning as the most popular and accessible 3D material for desktop 3D printers. It is user-friendly and produces predictable results, which is very valuable in prototyping. PETG is the second popular 3D printer filament which most of the vendors offer. Some brands are confident enough to bring new materials to the market adding diversity to 3D printing. Sometimes it is hard to find your way in the sea of different materials.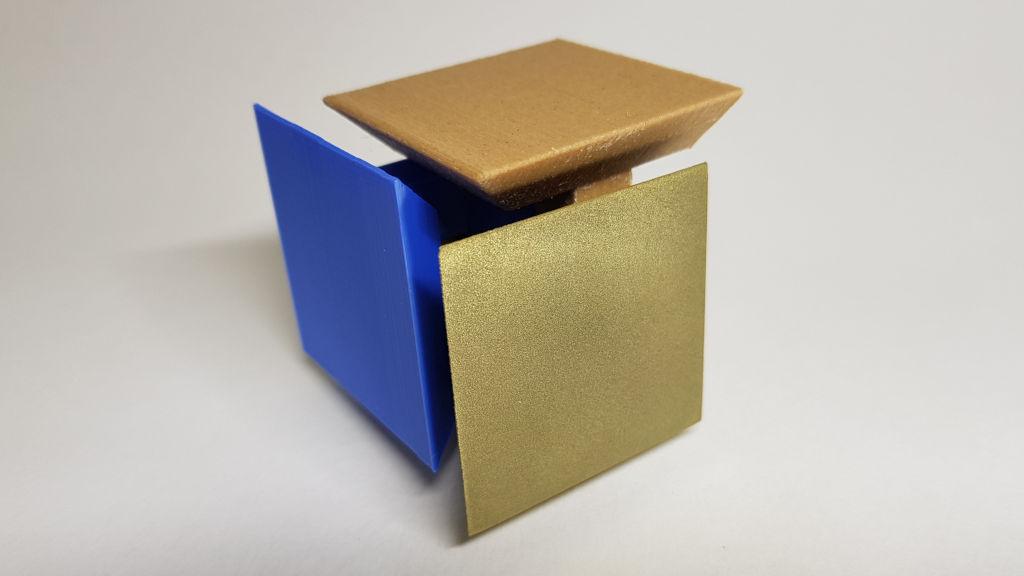 Several years ago 3D printing in wood or metal at home was a novelty, and now many vendors have these, previously experimental, filaments in their portfolio.
PETG, a derivative from PET, is among others that became a commonly used material in desktop 3D printing. It has many functional uses, it is durable and recyclable. PETG has a reputation as an easy to work with material.
Flexible materials (TPU) are also starting to gain weight lately in 3D printing at home. This type of material has its special uses, creating objects where other materials would not work. However, flexible (TPU) or semi-flexible filament is harder to use on a desktop 3D printer. Additional test prints may be required when first dealing with this type of filament.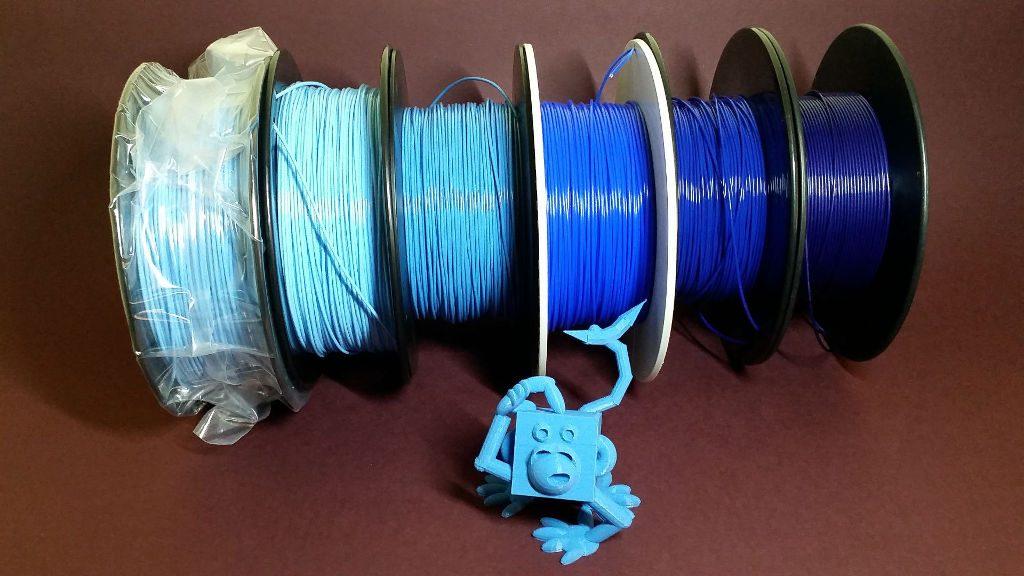 LCD UV-curing Resins for Desktop 3D Printers
If there are many independent FDM filament producers, then UV-curing resin usually produced by SLA and LCD 3D printer manufacturers. The variety of colors wasn't great in the beginning but now you can find more than 10 shades of the same brand even on marketplaces such as Amazon. Also, it is possible to mix some resins flawlessly to get the desired shade. Tessa Nesci demonstrated color mixing possibility in her Elegoo Mars Pro Review blog.
3D printer materials are an integral part of 3D printing industry. The growth in the 3D printer market underpins the boost in the materials segment, where more vendors and new materials keep emerging. Hope this table saves time in looking for the right filament and gives a good idea of what's available.
PLA – Best for Beginners
PLA (Polylactic Acid) is one of the most commonly used 3D printing materials. You often get a spool of it when you buy a new printer. PLA is normally the first filament used by beginners to 3D printing, as it is expected to have relatively predictable results. However, the quality of PLA may vary depending on the manufacturer. Even filaments from the same manufacturer but of different colors may have different printing properties…
Full Review & More Images
Nozzle: 190-220°C; Bed: 45-60°C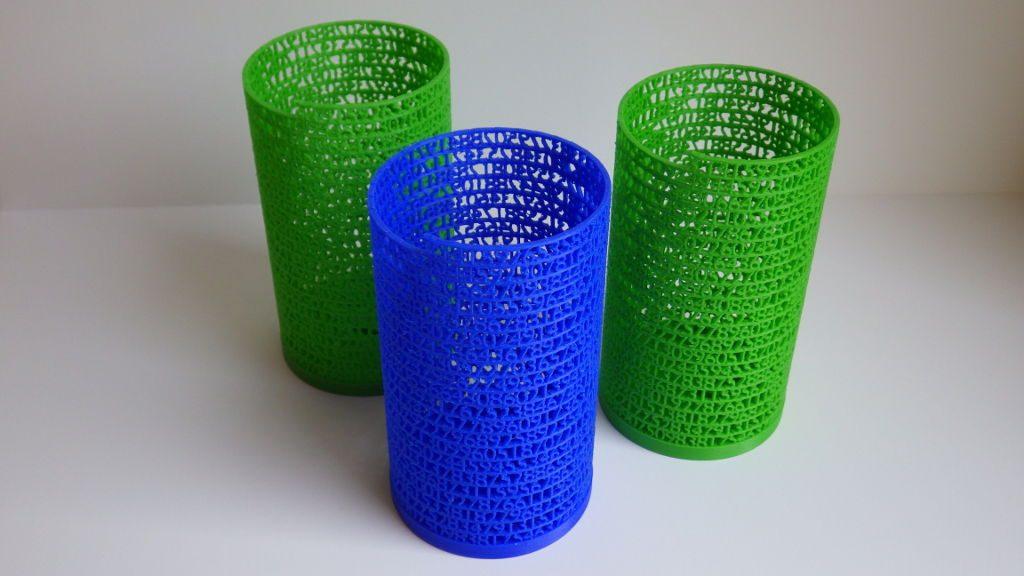 Wood Filament Review
It often consists of 60-70% polymers and 40-30% of recycled wood fibres of different kinds. Its qualities in reference to strength, for example, can be similar to PLA. There are no formal specifications for 3D printing materials and especially for new PLA composites. The properties of the end result together with the whole printing experience depends largely on what the non-PLA part of the filament is made of…
Full Review & More Images
Nozzle: 190-220°C; Bed: 45-60°C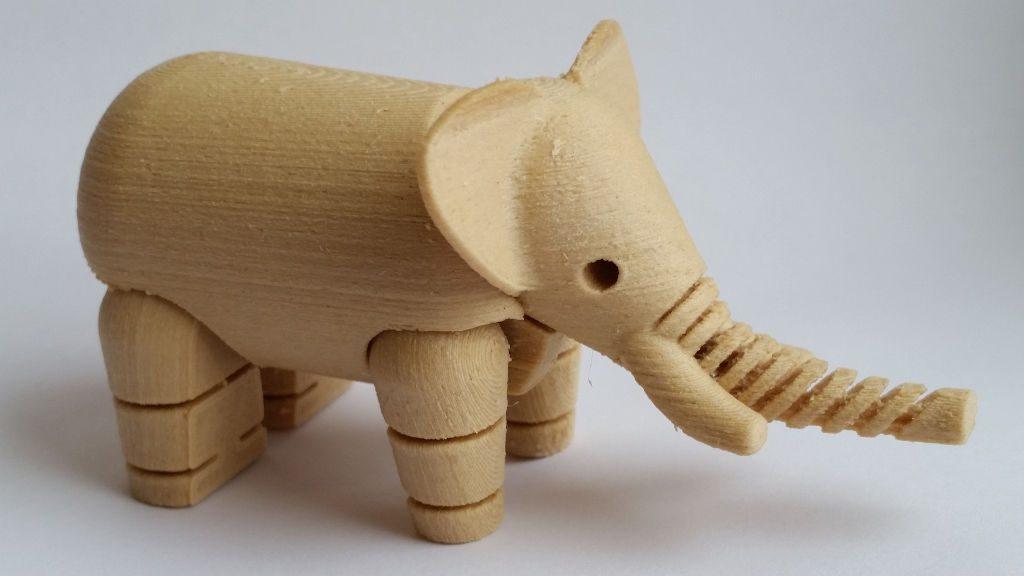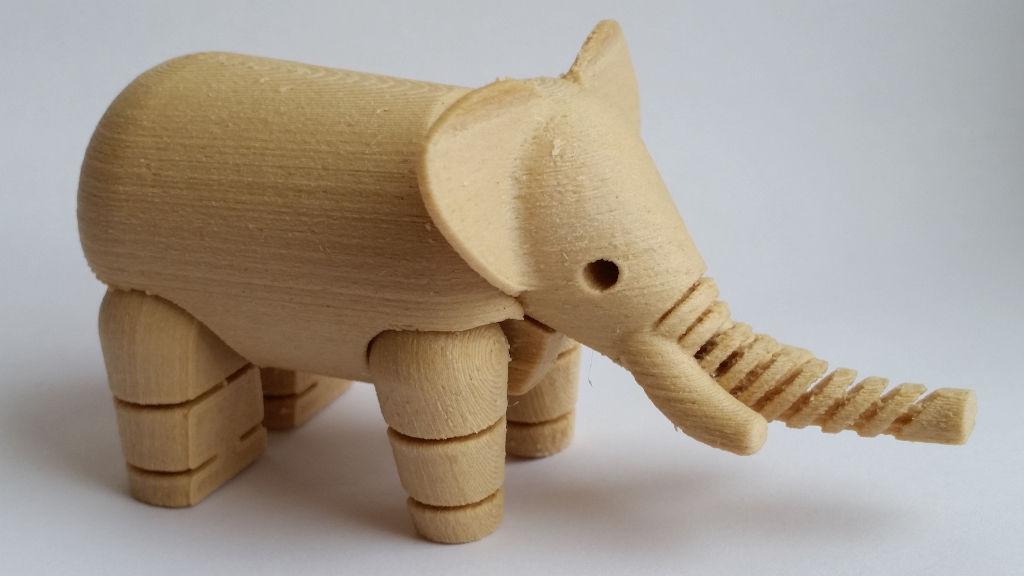 ABS Filament & Acetone Smoothing Review
When we started our adventure in 3D printing, ABS filament (Acrylonitrile Butadiene Styrene) was one of the most popular 3D printing materials. Later it lost its leading position to PLA and PETG. Some of ABS properties, though, may keep this filament in the top 5 for a while, despite of a few disadvantages when using it for 3D printing at home. Here are our Pros and Cons …
Full Review & More Images
Nozzle: 220-240°C; Bed: 80-100°C;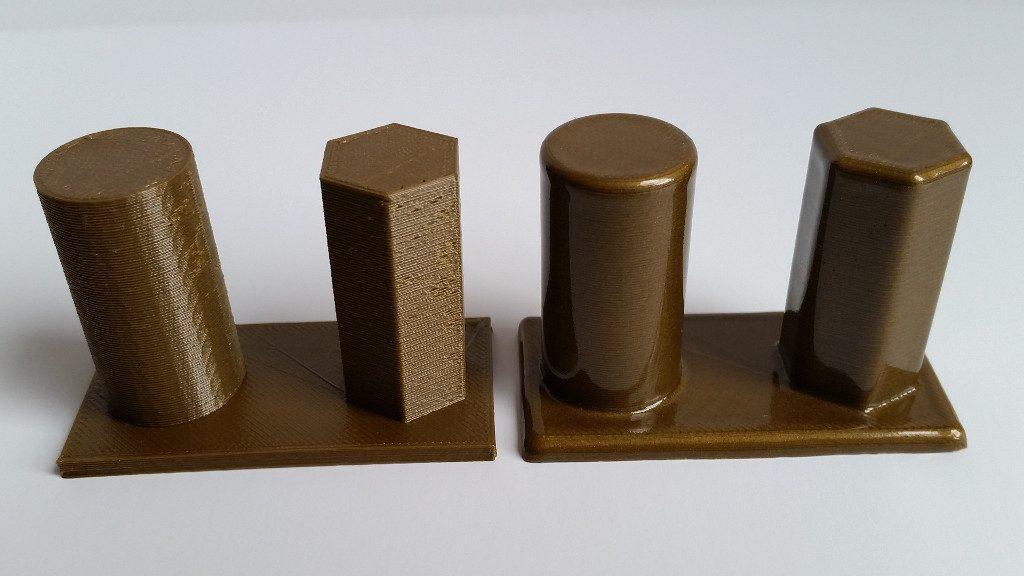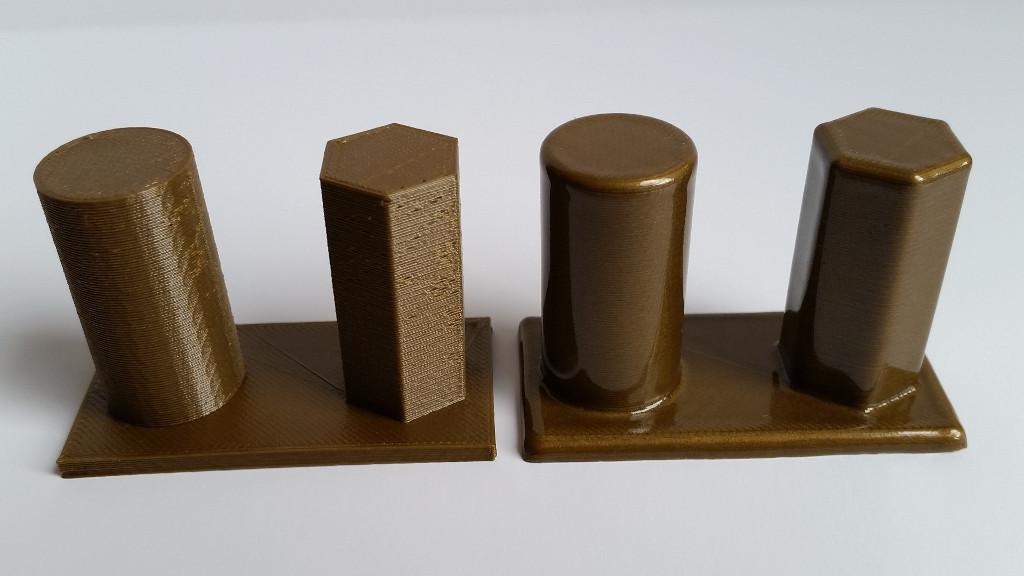 PET Filament Review – Pros & Cons
Another 3D printing material, which we have tested for the use in the home or office environment, is PET (Polyethylene Terephthalate). PET filament is food safe and waterproof therefore it is especially good for making vases, bottles, boxes, all sorts of containers …
Full Review & More Images
Nozzle: 240-270°C; Bed: 80-100°C;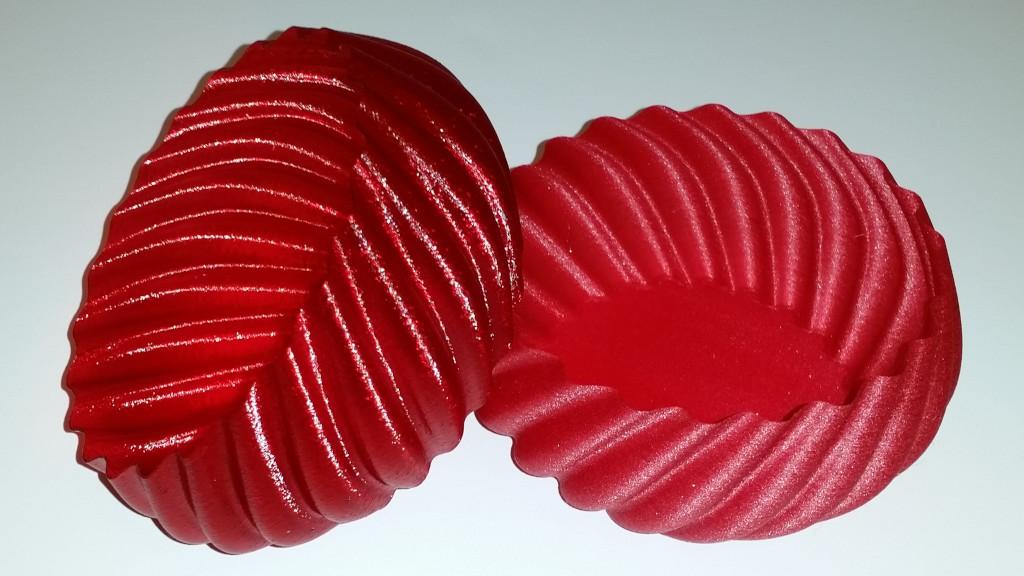 PETG Filament Review – Waterproof?
PETG filament is a 3D printing material for desktop 3D printers that has been quickly gaining popularity. PETG is a polyethylene terephthalate (PET) that is glycol-modified. Before writing this review, we thought about adding the images of makes in PETG to the previous PET filament review that we published earlier. However, after trying to print in it, we realized that it was a different material that required different printing settings, and therefore it deserved a proper review and its separate photo gallery. It is known to be waterproof, but do the models come out really waterproof when printed with desktop 3D printers? Let's check where PETG filament is used together with its Pros and Cons …
Full Review & More Images
Nozzle: 230-250°C; Bed: 80-90°C;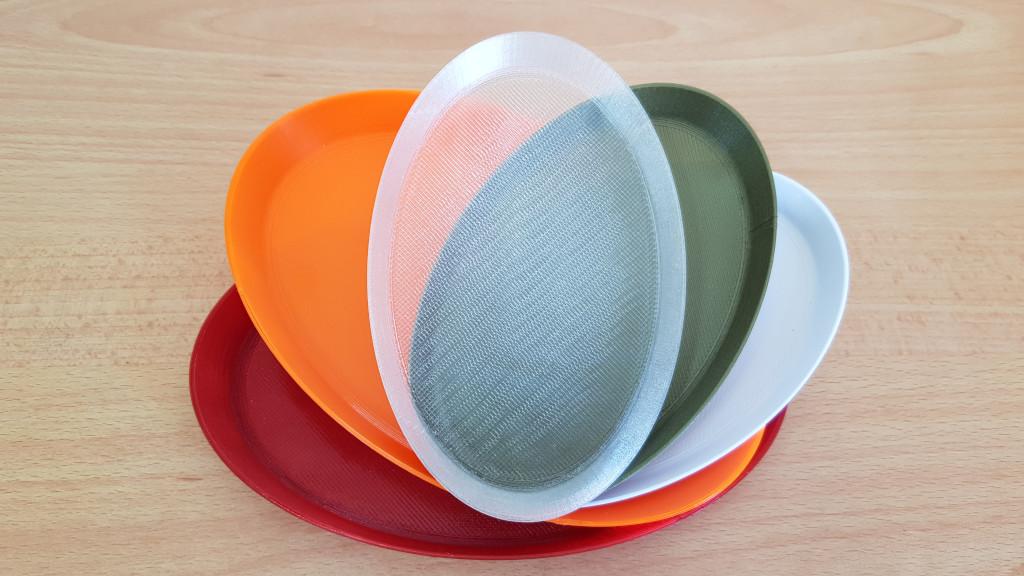 Flexible Filament Review – TPU, TPE, FLEX
FLEX – All flexible filaments
Flexible filaments, including TPU and TPE, are not as frequently used in 3D printing as PLA or PETG. The reason may be that 3D printing using such materials requires certain skills together with the good knowledge and feel of your machine. Also, slicer settings, like in Cura or Simplify3D, have to be adjusted individually. Not all objects can be printed in flexible material. For example, designs with joint parts, that work well in PLA or ABS, may require modification to suit flexible filament. This post is updated frequently with brief reviews, pros and cons, and ideas for 3D printing.
Full Review & More Images
Nozzle: 220-240°C; Bed: 0-60°C;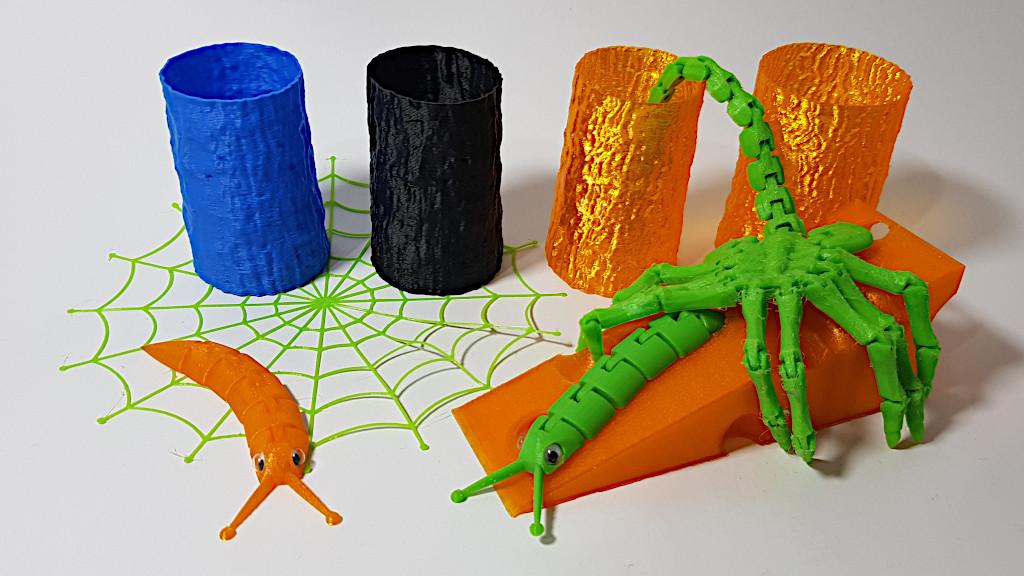 Color Changing Filament
Another interesting desktop 3D printer material to try is the color changing filament. Such thermochromic material changes its color depending on the temperature. Let's test how the color changing PLA works, and where it can be used. We will also touch upon "glow in the dark" and "rainbow" filaments. …
Full Review & More Images
If PLA, then nozzle: 210-215°C; Bed: 0-60°C;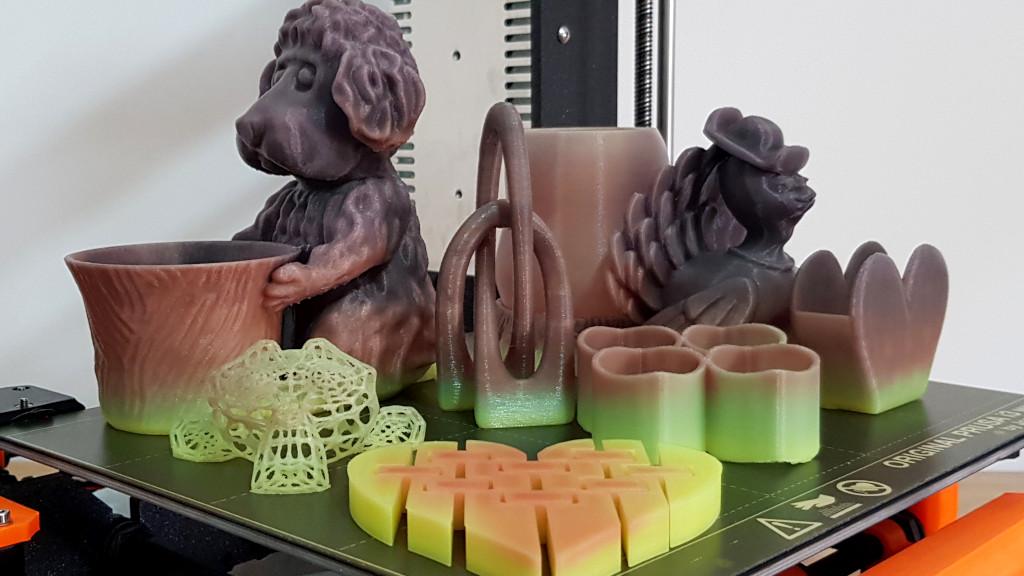 Rainbow Silk Filament
If you've ever wanted to print a model with multiple colors on a single extruder 3D printer without changing materials mid-print, the Rainbow Silk PLA filament is definitely worth checking out.
If PLA, then nozzle: 200-230°C; Bed: 60-80°C;