One of the most popular seasons for 3D printing at home is Halloween. Seasonal symbols together with fan art designs featuring objects and characters from horror movies made this creativity-rich event highly anticipated among 3D printer owners. Let's have a look at why Halloween is popular in the 3D printing community, and list the outstanding ideas and techniques.
This Guide Covers
Why Halloween is Popular in 3D Printing
Not just in 3D printing but I would say in any DIY community. As Halloween trick-or-treating requires decorations, costumes, and props, a 3D printer is one of the best tools to have. Take the most common filament like a white or black PLA (in case the pumpkin orange is not stocked in advance), 3D print a skull bowl or a spider, and you are part of the Halloween celebration with a themed object in your hands. Here are a few reasons why Halloween is especially important for makers and designers in 3D printing.
– Originality. Dedicate a little bit more time to researching the subject of popular Halloween 3D prints. It will then be possible to fish out genuinely original and awesome models that, when 3D printed, will grab the attention of your friends, colleagues, or visitors. Sometimes original decoration or prop designs are either impossible to mass produce or they might be very fresh, coming as fan art from the recent popular movies.
– Economy. Such platforms as Etsy, where shoppers can buy original items, helped to drive the popularity of Halloween among the community even further. For 3D printing designers and makers, this event is important commercially. Check the latest video by Uncle Jessy where he shares a success story of the model that made him $3,000 in a week.
– Family event. Creating props can be done together, a good occasion for quality family time. The whole family, despite of age, can participate in this process, from making decisions on what to print to putting the prop together.
Halloween 3D Print Ideas & Implementation
The most popular symbol of Halloween is the pumpkin aka Jack-o'-lantern. As pumpkin color, an orange filament, is easy to get hold of, we see a lot of pumpkins printed for the season. Here are some other ideas of what to search for:
– Classic Halloween symbols: Pumpkin, Jack-o'-lantern, Ghost, Witch, Black Cat, Broom, Graveyard, Skeleton, Skull, Bone, Zombie, Vampire, Spider, Cobweb.
– Fan art from the movies: A significant increase in downloads on the file repositories prior to the season is for the props and objects inspired by horror movies. Here are some of the titles: Friday the 13th, A Nightmare on Elm Street, Frankenstein, Dracula, Squid Game, and other horror movies.
Now let's list the print ideas and techniques.
Halloween Themed Multilayer Silhouettes
Have a look at the Halloween-themed silhouette art from 3DPrintBunny. Natalie Cheesmond, in her guide, described in detail the technique she used to create such scenes. To feature Halloween in a 3D way seems natural. Variations are endless. One of the biggest advantages of such scenes is that the biggest print, the frame, can be reused for the other scenes featuring other events such as Thanksgiving, Christmas, etc. The slides are thin, which makes them easy to store for the next year.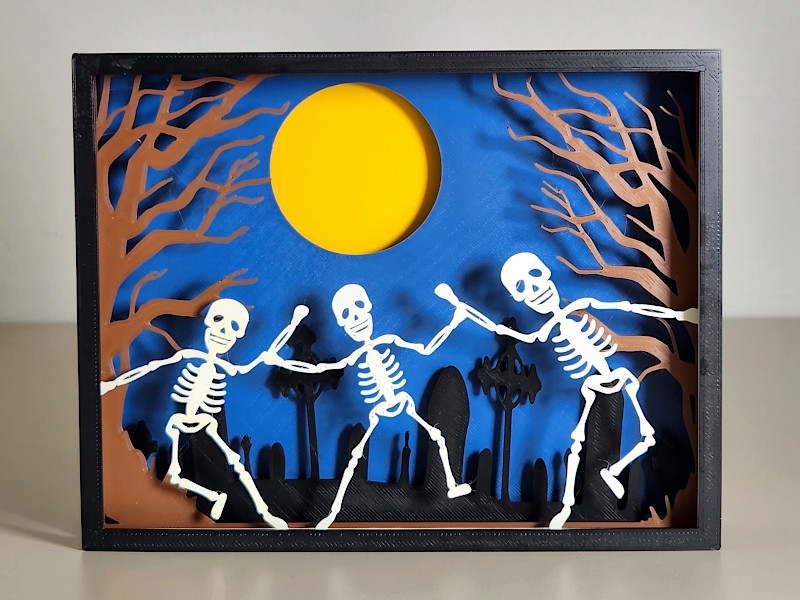 Files: Multilayer Silhouette on Thangs.
A bigger frame will require a bigger build plate. A common PLA material works well here. Other materials, such as PETG, ABS, or even composites, might have issues with the bed adhesion. Extra glue may be required to keep sharp corners attached to the build plate. Each slide is 1 mm thick and it will take 5 layers to print with 0.2 layer height.
Halloween Character Signs & Snap Badges
A good idea for the quick Halloween-themed 3D prints came from Abbymath. Abby Brown has a collection of such signs and badges in her Halloween collection on Cults.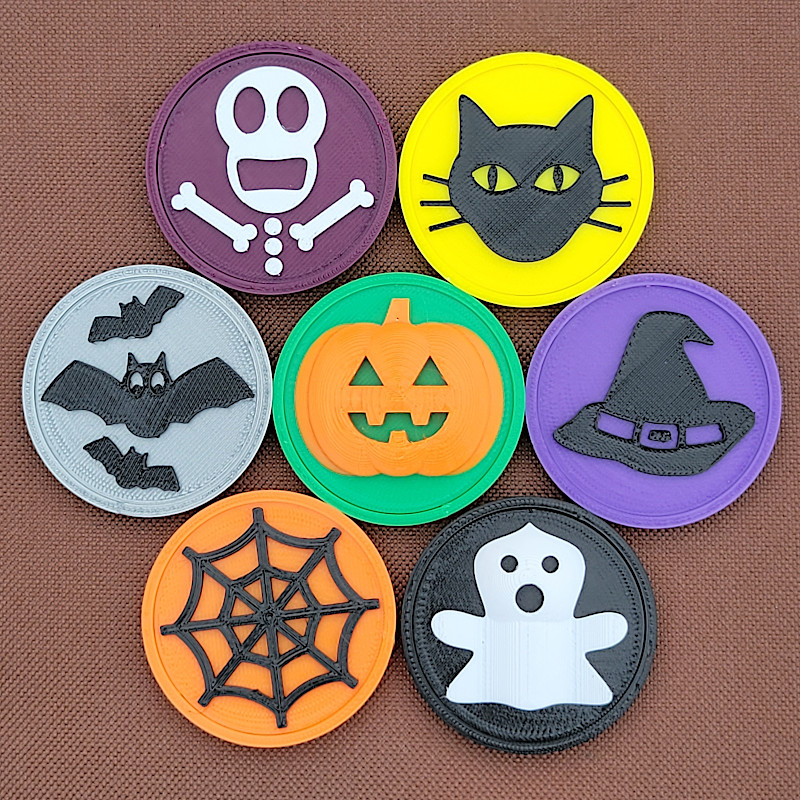 Files: Collection on Cults.
The strongest point of such multicolored designs is that these are quick prints that can be done on budget 3D printers with a single extruder using a simple color-changing technique. Also, filament samples or scraps may be enough to complete the item.
Halloween Masks
There is a big collection of masks available on various file repositories. Generally, such designs may not be difficult to print but it may be tricky to make them wearable. We would recommend checking the designs with caution. Extra post-processing, such as excessive sanding, spray painting, and painting may be required. Also, it is highly likely that the well-designed mask files will come at a price in the area of $10-30. Quite often such designs are not suitable for children as the features are disturbing.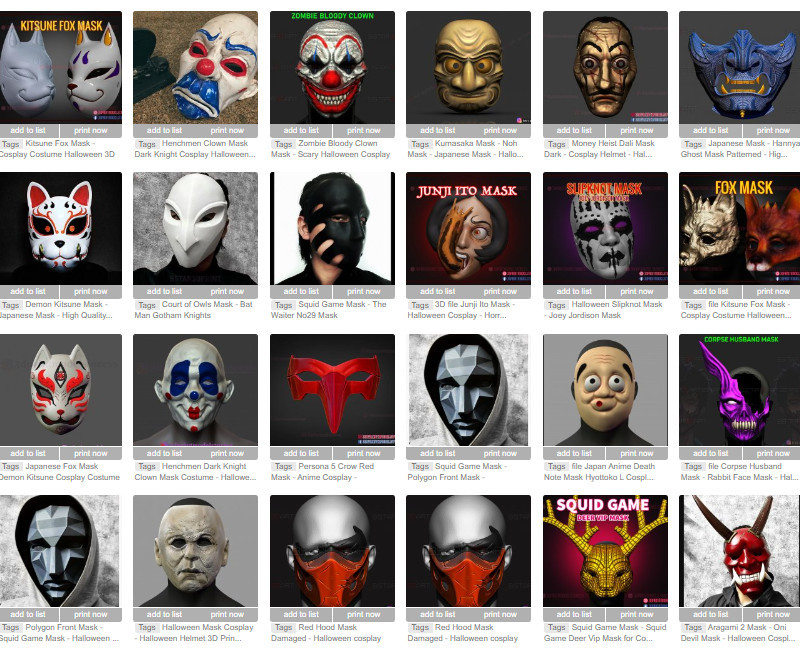 As we mentioned before, such masks are created as fan art following a popular movie. Search for such horror movie titles as Friday the 13th, Squid Game, Scarry Movie, etc. This is when the unique fan art design of the freshly released horror movie may bring the original content to your party.
Skeletons, Skulls and Bones
There is a huge variety of skeletons, skulls, and bones available on file repositories. A big collection can be created from the skulls alone. Such items usually come with easy-to-medium difficulty to 3D print. Some of the talented designers created support-free, articulated print-in-place designs worth looking at. Another good point is that white filament is easy to acquire (quite often it comes with a new 3D printer).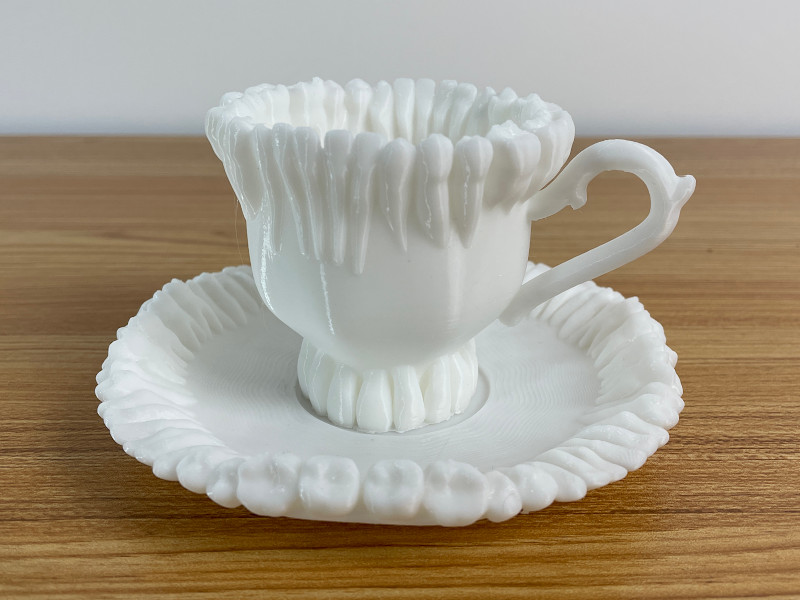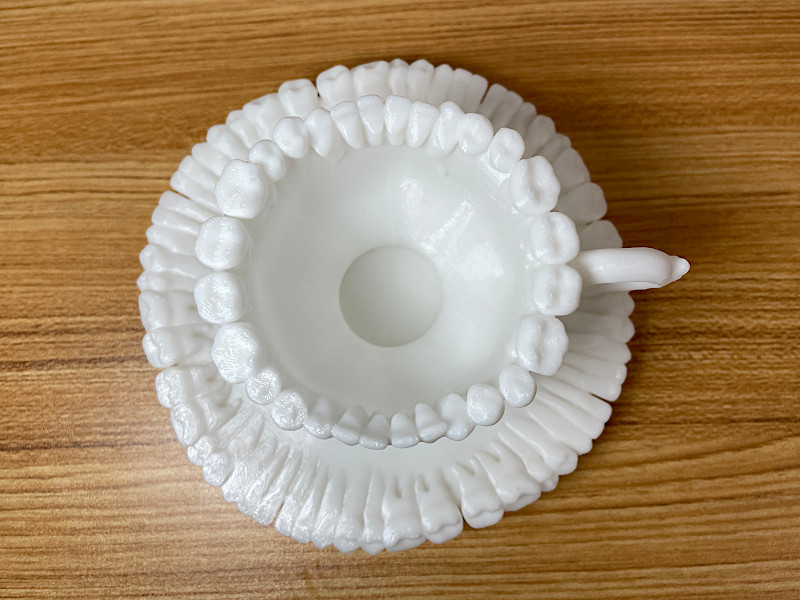 Files: Teeth Cup and Teeth Saucer DaveMakesStuff on Thangs.
This year one of the most popular Halloween creations was the Teeth Cup and Saucer (and teeth) by DaveMakesStuff. This original idea attracted a lot of attention in social media. These models were easy to print on Neptune 3 with tree supports and support blockers and with the basic Cura slicer settings. Available for free, the quality models are worth paying for.
Spiders and Cobwebs
A fake spider is a classic scary prank idea. Remember a hairy big spider from the prank shop? This is a highly customizable and printable creature. Also, to get it quickly printed, it requires not much of the basic black filament.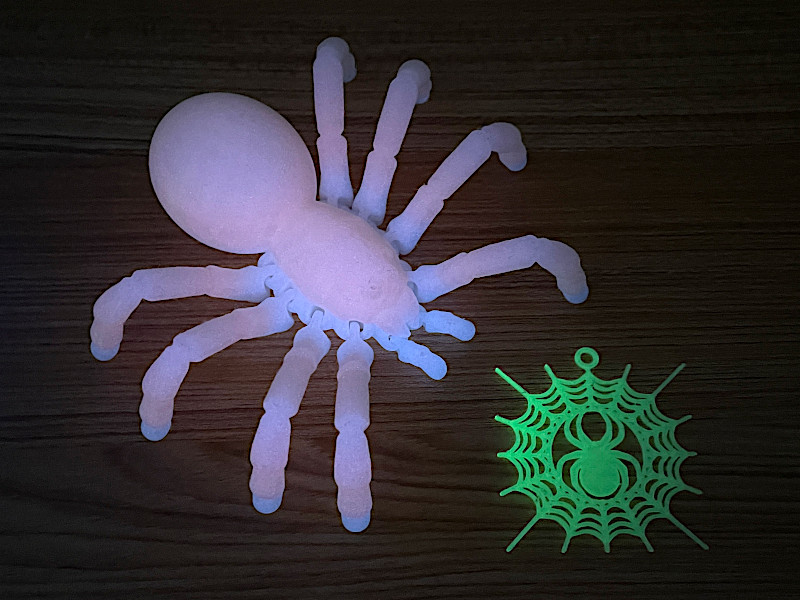 As an example, I printed an Articulated Tarantula by McGyBeer to feature the Glow in The Dark filament. It is a medium-difficulty model to print as the spider's moving legs must stay well adhered to the bed and then have to be connected at the end of the print. To print such a model successfully I would recommend a raft, supports under the legs, and a slightly increased Z-lift in order for all 16 parts to get connected into 8 legs.
Zombies & Vampires
All undead creatures are obviously inspired by horror movies or video games. Starting with the vampire bats and finishing with the Lord of the Undead from Game of Thrones.
Other
I will expand this collection with unique ideas in the future. Maybe next year 😉
The Best Materials for Halloween
Apart from the orange and black color shades popular on Halloween, we must mention the Glow in the Dark (bold) material. As trick-or-treating happens in the evening, with the daylight dimmed or completely gone, there are cases when such material plays very well. An LED UV light source is required to make it more pronounced.
Articulated Tarantula by McGyBeer 3D printed in Rainbow Glow in The Dark PLA. You can see the transition from blue to red. UV light is switched ON/OFF to charge the glow.
©3DWithUs – Print & MP4: Max Funkner
UV Torch
UV Flashlight 395-405 nm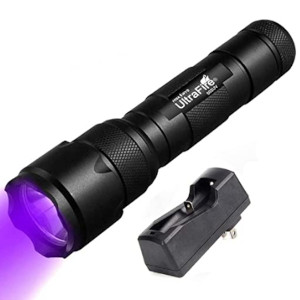 Affiliate Link:
Amazon
One of the best products to charge such both Glow in the Darg and UV Color Change filaments is UV Torch. The filament gets charged in a matter of seconds.
There are a few setbacks though. For example, such filament, when exposed too much to the sun, starts to lose the glowing effect over time. Also, this filament is a composite which may make it more difficult to print in comparison to the basic PLA.
– Resin. A quick note about the resin. It is possible to find the right shades for a highly detailed model. Beige, white, and grey are quite popular in resin 3D printing. As the volume of resin 3D printing is typically much smaller, resin 3D prints for Halloween are limited to such models as figurines and miniatures. I will definitely try to print the highly-detailed Halloween pumpkins in resin in a few weeks.
FDM vs Resin Halloween 3D Printing
If you need to pick only one 3D printer, I would go for an FDM 3D printer for Halloween needs. There are several reasons.
– Volume. Budget 3D printers like Mingda Magician X or Anycubic Kobra have much bigger volumes which will allow you to print bigger objects and props.
– Messy. Halloween events may involve family members with kids. I would not recommend letting young children anywhere near a resin machine.
– Colors. It is possible to mix the resins and there are more shades becoming available, but it still cannot beat the variety of shades of the filaments in FDM 3D printing.
Read more about FDM vs Resin 3D Printers.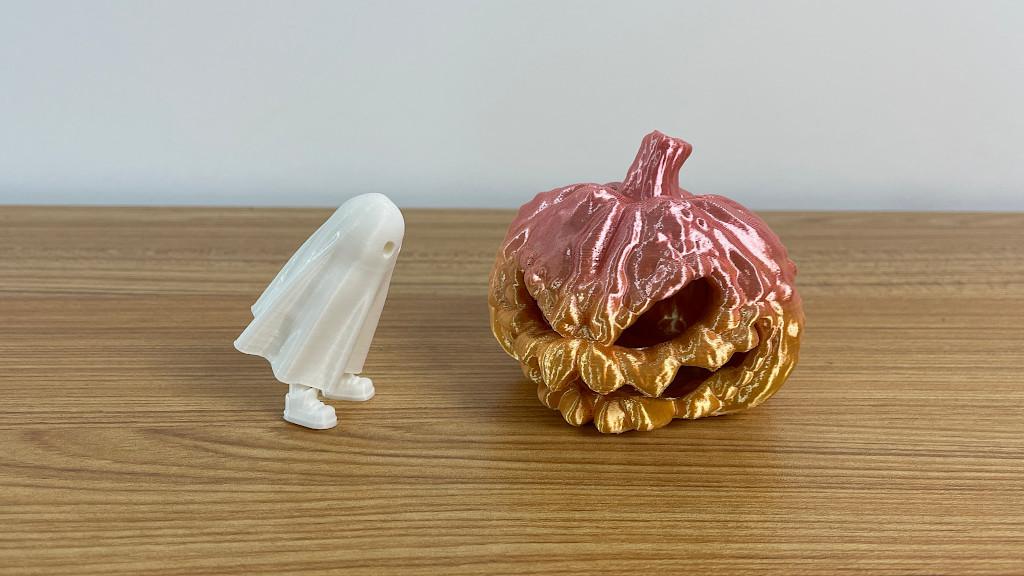 Files: Zou Ghost by Tower of Creation and Halloween Monster Pumpkin by Calaverd.
Conclusion
Halloween has become one of the most anticipated seasons in the 3D printing community. It is popular, celebrated internationally and a lot of people take part. Also, as the Halloween theme has next to no limits in the scope of design ideas, we see new awesome creations and fan art coming out every year.